With just two more weeks of Big Ten football, the race is on. Battle lines have been drawn and a lot is on the line. No, I'm not talking about the Rose Bowl, but rather the contest to see who holds down the cellar between Michigan and Indiana.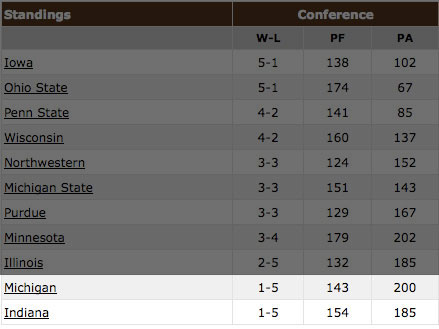 The despised Wolverines are currently tied with Hoosiers at 1-5 in the conference. Now, technically, Michigan has a referee-aided head-to-head win over the Hoosiers, so if both teams push down the stretch, then proud Michigan Man can claim that his boys didn't exactly finish last in the Big Ten.
That's why we, as Buckeye fans, need to put on our Hoosier hats these last two weeks. Michigan finishes at Wisconsin and at home against the Buckeyes to end the season -- most likely two more losses that will provide SS RichRod with an regression from 2-6 in his disastrous first season to 1-7 in conference in '09.
Indiana, for their part, have to travel to an angry Penn State this weekend before finishing at home in a rivalry game with Purdue. Danny Hope has his team playing better, but that game is clearly our best bet. Get it done, Lynch.
If Michigan finishes last in the conference, it will be hot on the heels of dropping seven-straight conference games and might, in fact, lead to a quick removal for a guy many think has at least one or two more years to get things going. You know things are precarious, when his propaganda minister for the first time openly discussed what it might take for him to warrant removal and Bill Martin's sudden "retirement" leaves the man with perhaps one less defender in the program.
As frustrating as moments of our own season have been, it's worth taking a look up north every once in a while to appreciate the calamity of the situation. Kind of like watching Springer when you're having a bad day, really.