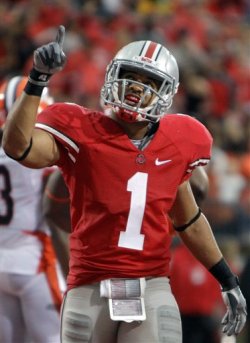 The continued emergence of Brandon Saine has created quite a stir among the faithful with many now clamoring for Zoom to supplant Boom Herron as the starting tailback. In his presser, Tressel didn't quote the general rule that a starter can't lose his job due to injury, instead opting to confusingly say it doesn't matter which of them is his number one running back before then indicating Boom would start this week.
Sounds like the bottom line is Boom will get first crack at the Wisconsin defense but the question is will he rise to the occasion? It's an unfortunate twist of fate for Boom that Saine was able to make his statement game against porous Indiana while Boom needs to do so against the physical Badgers, the same team that concussed him last year on what I will go to my grave thinking was pass interference. Zoom also had the benefit of operating in space last week thanks to the recent installation of a nearly exclusive approach to running out the shotgun. This same attack is what helped Boom rush for 5.4 yards per carry against Illinois (14/75) though that seems lost in the eyes of many.
I don't mean to sound like a Boom apologist - you create your own luck - I just think it's a little too early to trumpet Saine as the starter and want him to get 25 carries a game. The fact is, this team needs Boom and Zoom to compliment each other to avoid one or the other wearing down though I have no problems with Saine seeing more than 50% of the totes based on what he's shown thus far. He's earned it.
Right now, the biggest difference I see in these two from a purely rushing standpoint is Zoom has been able to peel off at least one nice run in every game whereas Boom hasn't been able to get into the secondary with the same regularity. In the new look offense, he was able to bust runs of 14 and 13 yards on Illinois and didn't have one negative yardage play in 14 tries but Zoom has in-arguably been the more lethal runner as evidenced by his longs of 30, 19 and 31 yards in the last three weeks. Still, Saine has 0 TD's to show for his efforts while Boom has 5 TDs this season and at least 1 TD in eight straight games (10 total). That's gotta count for something. Let's also not forget amidst the gripes about his 3.6 ypc average this year that Boom did average 4.9 last season in 89 carries. Meanwhile, Saine averaged 3.9 a pop on 86 carries in '07 and '08 combined.
So what's the verdict? Will Boom deliver the goods this weekend giving the Buckeyes an effective tandem alongside Pryor or will the momentum swing toward Saine as the workhorse with Boom coming in only for a few series to give Saine a breather? Of course, all this assumes the flu ridden offensive line has enough gas in the tank to create the same holes we've seen against lesser foes these past few weeks.