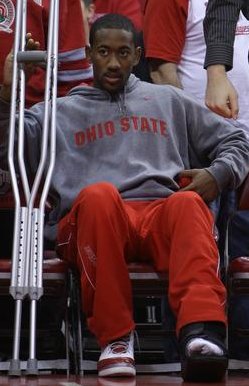 While the 2009-10 version of Matta's basketballers won't feature any hotshot incoming freshmen for the first time in years, even better is the fact David Lighty will make his return from a broken foot suffered last December. A true glue-guy, it is sometimes hard to measure Lighty's value but there's no doubt his return will help the Buckeyes on multiple fronts.
Lighty did his best to lead from the sidelines last year but there's no substitute for on court leadership and there's no question that was lacking a season ago. Turner did his best but even he was susceptible to becoming flustered giving the Buckeyes no true rock to steady the ship when the sh!t hit the fan. Though Lighty is not as talented as ET, clearly Lighty has the supreme respect of his teammates, he's been through the wars and he is said to be the vocal leader of the team both on and off the court. His return to the floor should help steady not only Diebler and Buford but Turner, too. Maybe the added leadership will help keep Turner under control, keeping him from trying to do too much when a team makes a run on the road.
Another huge benefit of Lighty's return goes hand in hand with Matta's edict that the Buckeyes will finally return to primarily playing man defense. As anyone who has watched the last few seasons of OSU hoops would agree, playing zone was necessary due to a lack of quicks, at least one lock down defender and questionable inside depth but too often the residual was watching teams get scorching hot from deep as the Buckeyes consistently failed to rotate on shooters or effectively block out on the offensive glass. I'm not sure Lighty's return will be enough to halt the offensive boards problem simply because proven frontline depth doesn't exist but he'll definitely help plus there's no denying he's the best one on one defender Matta can throw out there.
Building on that, assigning the versatile Lighty to the opponent's number one wing/baseline scoring option gives Turner the ability to play the second best option, hopefully saving his legs for offense in the process. This will be especially important if Matta truly does utilize ET at the point for the bulk of any meaningful game minutes. Maybe it's a reach but I'm thinking less wear and tear on ET's physical and mental game could lead to fewer turnovers late in games.
Back to defense, Lighty has proven himself to be a solid rebounder for an undersized guy forced to guard players outside of his natural position. Lighty was averaging 5.7 boards per game before the injury, up from 3.6 as a sophomore. He's also a workhouse (that's right, workhouse!) averaging 32+ minutes per game over the last two seasons and he played 40 or more minutes five times as a sophomore showing he can stay out of foul trouble. That alone will be of huge importance since we know Dallas is prone to silly fouls and the front court depth is nothing to brag about.
Finally, Lighty plays with a toughness that has been missing in his absence. He's always the first player on the floor fighting for loose balls and if Matta's lucky, that will be infectious as last year's group appeared too quick to start jailbreaking up the court before any Buckeye had actually controlled the ball. If Lighty's defensive intensity is at all duplicated, a once shaky defense could be much improved.
With two years of eligibility remaining thanks to a medical redshirt, it's Lighty's team from a leadership standpoint for this year and next. It will be good to have an extension of Matta on the floor once again, even if he's not the point guard. I, for one, am excited to see if Lighty can take his game and leadership to the next level.