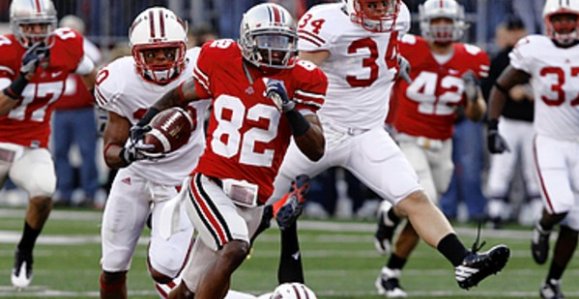 The Ghost-ess with the Most-ess
Of all the big plays, I'm not sure any were bigger than Ray Small's 96 yard kickoff return for a TD for a host of reasons. First and foremost, the jaunt answered a Philip Welch field goal pushing the lead to 28-13 with a little under 10 minutes left in the 3rd quarter. The 15 point lead was huge in that it forced Wisconsin to throw the ball more than they game planned the rest of the way allowing the stout Buckeye defense to keep rotating bodies up front to rush the passer.
Second, coupled with a pick six by Jermale Hines to open the 2nd half, Small's return helped ensure the Buckeye offense wouldn't take the field until a little under two minutes remained in the 3rd quarter. Even better, it meant Pryor would only be called upon to attempt one more pass as Tressel dialed up 13 run plays to win the surest way. If not for Small's return, who knows what would've been required by Pryor, and what the result might have been. To his credit, the one pass Pryor did attempt was a key 17 yard completion preceding Zoom's 31 yard run that set up a FG and a 31-13 lead but I don't think anyone clad in S&G wanted Pryor to have to throw the ball any more than absolutely necessary after what we witnessed in the first half. Thank you, Ray Small.
D-Line is D-Vine
I think we're just about out of superlatives to describe the nastiness of the defensive line. I mean, what's left to really say about a group that came in facing an offensive line that had given up just 2 sacks in five games and came out recording a ridiculous 6 sacks along with countless hurries and hits on a sturdy but shell shocked Scott Tolzien. The Big Ten's passing efficiency leader entering the day still managed to complete 27/45 but he also tossed 2 pick six's thanks to a lack of time to scan the secondary.
Not only did the line disrupt the passing game, they also stood up to powerful John Clay holding him to 2.95 yards per carry (20/59) with a long of 8 yards. Their ability to tie up blockers allowed 4 Buckeyes lined up behind them to register career highs in tackles. Homan had 15, Coleman and Rolle added 14 and Hines picked up 11 thanks in part to the ability to run free in pursuit of the ball carrier.
The depth up front showed again as Thaddeus, Williams, Wilson and Heyward all recorded sacks with Williams and Heyward also adding 5 tackles apiece and Wilson four. Best line since 2002? No question. The question is, are they better?
Kurt Coleman - All-American?
Most of us expected Kurt Coleman to have a big year in the Buckeye secondary but I think even his biggest supporter would agree Coleman has exceeded expectations. The big play machine stepped up once again yesterday with an 89 yard pick six to thwart a Wisconsin march and give OSU a 7-0 first quarter lead. Credit the defensive line with getting great pressure but once again, the cagey Coleman was in the right place at the right time. Tip your hat to his return ability, as well, because if he only gets 20-30 yards of return yardage, the Buckeyes don't likely score - at least not a TD.
The backbone of the No-Name defense is jeopardizing the validity of that moniker, however, thanks to his INT-TD and a career high 14 tackles in his comeback from a one game suspension. Having played one less game than his teammates, Coleman ranks 2nd on the team in tackles (43), 1st in solos (23), 1st in INT's (2), 1st in passes defensed (4) and 1st in forced fumbles (3). Damn, son.
Seriously, at this pace, only the national disdain of Ohio State can keep Coleman from All-American honors.
Pryor Concerns
After his latest big game struggles, I'm more interested in what you all think about Pryor's short term and long term potential more so than what I think. At what point is Pryor held accountable instead of the coaches and convenient, yet slowly less valid excuses, like youth? That's not to say being a young QB isn't a valid excuse to not be great at this early stage of his career but at what point should we expect him to consistently show up in a big game by way of either improved accuracy or decision making (or at least be able to find his helmet - I kid)?
What's most maddening is amidst a 5/13 clunker he can singlehandedly take the team down the field as he did on the last drive of the 1st half. Prior to that drive, TP was 1/7 for 10 yards with an INT through the air and had run the ball 5 times for 7 yards. Then, magically, he accounts for all 88 yards on a 7 play surge featuring a 27 yard run and a 22 yard completion to Posey over the middle before a perfectly thrown pass to Posey's back shoulder in the end zone for a 32 yard strike and a 14-10 halftime lead. That was a big time throw, my friends. Maddening, indeed.
So, what's keeping Pryor from achieving consistency? Youth, coaching and throwing mechanics typically come up during this conversation but could it be that he simply isn't cut out to be a big time quarterback because maybe he doesn't have the ability to balance the mental and physical demands of the job? I don't know that answer, I'm just saying that it's worth questioning because we've seen QB's with similar playing style never solve how to iron out the wrinkles. For now, I still say he can do it because I think he really does want to improve and he has shown the ability to flat out dominate lesser foes making me feel like it's inside him to one day put it together but time will tell. As disturbing as some of his telegraphed passes and decisions are (how bout that scramble with the ball over his head leading to a grounding call?), the way he took over on the aforementioned 88 yard drive before halftime was absolute mastery and also a perfect example of why he's driving us all nuts.
The Aftermath
Even with the struggles of TP and the offense in big games this year, the Buckeyes find themselves atop the Big Ten with a 3-0 record and the schedule showcases three straight cupcakes (@Pur, Minn, New Mex St) before closing with @PSU, Iowa and @Michigan.
I'm not sure if facing the defenses of Purdue (76th in Total Def), Minnnesota (77th) and New Mexico State (46th) will cure the root issues of Pryor's game but if nothing else he should be able to regain any lost confidence. Further, the Buckeyes shouldn't need their full complement of RB's to get past these teams which could be important after Boom once again the left a game due to injury, this time an ankle. I know we're all high on Jordan Hall but this team is going to need the services of a healthy Boom and Zoom to survive the last three games on the conference slate.
As much as it feels like this season has been an unnerving roller coaster, the Buckeyes are exactly where most of predicted they'd be: 5-1 with the loss coming to USC, on the way to 8-1 headed to Happy Valley.