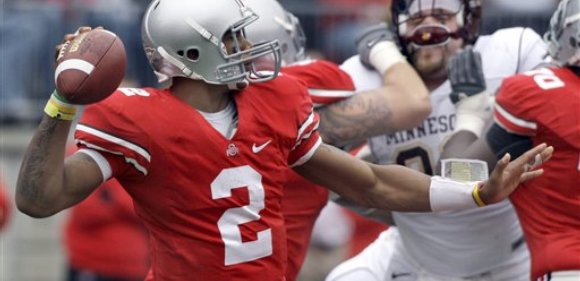 Tempered Enthusiasm
I know you don't want to hear it but I personally can't get too excited - yet - about what we saw from the Buckeyes on Saturday because Minnesota really is that bad. Now, the Buckeyes did exactly what they should do against a bad team by blowing them out but that doesn't mean I'm buying the obligatory, "Well, Purdue was bad and look what happened" blabber.
The fact is this was only a 7-0 game at half and up to that point Minnesota had committed five penalties, dropped five passes including one off the receiver's facemask, played two bad quarterbacks, lost their best player to injury, watched another player damn near fight a coach and blew a coverage giving Ohio State their lone score.
I don't mean to insinuate this wasn't a building block game because I think it could be however it would be a stretch to say major leaps were made by Pryor and the offense in general or that all the recent concerns about this group have been erased after a strong showing versus the Gophers. The line was improved but still has injuries and issues to deal with such as Cordle's sieve impersonations, the running backs are continuing the recent years trend of no durability, the red zone offense is still shaky and TP is still trying to put together a consistent, error-free performance. Saying all that, I'm hopeful the New Mexico State contest will allow for continued improvement, and that injuries on the line have progressed before the trip to Happy Valley.
Terrelle Takes A Step Forward
Though he still had a few of his customary frustrating plays, Pryor did show improved throwing mechanics and dropped in a couple very nice throws. I hesitate just a bit on my excitement over some of the lasers he unleashed because it appeared most often the primary read was open and we already know Pryor can make a strong throw if the primary is open and the play keeps its rhythm. Still, what a great throw he put in Posey's hands up the sideline, on 1st and 10 no less. Even though Posey couldn't hang on, the pass was money. Pryor also looked more comfortable with his mechanics on most rollouts as he paused to set his feet leading to a little less float.
Obviously, Pryor's accuracy is still a work in progress as his 13/25 clearly suggests. He was victimized with a few Posey drops but he didn't help himself with some bad passes behind and late to Dane and the interception of a pass intended for Sanzenbacher was a classic TP stare-down. Still, you gotta like the connection Pryor and Posey seem to be building.
When rushing the football, it was impressive to see Pryor actually initiate some contact or at least not avoid it allowing for extra yards in numerous instances. I'm all for minimizing the hits he takes but I think the whole offense benefited from seeing Pryor show some grit after the collective thud last weekend. Pryor went over the 100 yard mark (15/104) for the second time this year. With the health of Boom and Zoom in question, we could see TP log more than his usual 12 carries per game down the stretch.
ISO: One Durable Running Back
Before you get upset, this is not about questioning toughness, I've been there and done that last year. At this point, I'm wondering if it's just bad luck? Already without Boom Herron, who's building a reputation as an oft-injured running back, the Buckeyes are now once again wondering if they can count on Brandon Saine to stay healthy. After starting slow with 7 carries for 14 yards, Zoom's next 4 carries went for 31 yards but just as he was hitting his stride, he took a strange hit on a run up the gut and last we heard he probably suffered a concussion and will miss a week.
It sounds as if Boom will be partially available this week and I think we're all excited about what Jordan Hall has shown but if you aren't concerned about the potential lack of a 100% healthy Saine and Herron for Penn State then you are either way too high on Jordan Hall or else you are just way too high on the hippie lettuce. Don't get me wrong, I've been sweating Hall ever since the jersey scrimmage but winning on the road in Happy Valley will require some experience and depth at RB.
Back to the Minny game, how 'bout Jermil Martin? The big boy from Glenville did his best "poor-man's-Byars" impersonation sporting #41 while rumbling to daylight in a 7 carry, 75 yard, 1 TD performance. He's not going to see significant carries in a game this year but it looks like he could be a valuable short yardage guy if needed down the stretch.
Defense Bounces Back Behind D-Line
Minnesota's offense is a straight up fiasco especially without Decker but it was nice to see the Silver Bullets up front reestablish themselves as the badasses they are. Thaddeus Maximus was in beast mode all day recording 6 stops and 3 sacks plus a fumble recovery while fellow bookend Nathan Williams added 4 tackles and a sack. On the inside, Worthington stuffed the middle with 5 stops and John Simon added a TFL and forced a fumble with a nifty spin move in pass rush.
Behind the line, Homan led the way with 8 tackles with fellow LB Brian Rolle adding five. The secondary was also active as Hines, Chekwa, Coleman and Russell contributed 4 stops each. Keeping with the script, Coleman also had his weekly turnover - an interception complete with 40 yard return. I've read some notes questioning the effectiveness of the corner opposite Chekwa but I'm not sure if I agree. Torrence and Amos are definitely a stop down from Chekwa but they held their own and the Gophers completed barely over 50% (15/29). Again, it's Minnesota but I'll take that. If the line gets consistent pressure, I think Torrence can do the job.
When the dust settled the Silver Bullets held the Gophers to 1/10 on 3rd down and not counting the last possession of the 1st half in which they ran out the clock, Minnesota had the ball 11 times producing 7 punts, 3 turnovers and 1 TD. Me likes.
Corso and Griese Going Senile Together
Wow. What a day for ESPN talent. Most of you caught Bob Griese's priceless "he's out getting a taco" comment when explaining why Juan Pablo Montoya wasn't in the top five of the chase followed up by his apology right after the completion of the game. In between his comment and apology, Bob struggled at times to put together coherence sentences as Spielman, as usual, controlled the broadcast. I almost, and I stress almost, feel bad for Griese at this point. Dude needs to pass the mic.
While not as controversial, Lee Corso also gave us another fine example of his decline as a competent GameDay face when he used the phrase "shot their wad" referring to Arkansas' game effort against Florida last week prompting Herbie to exclaim, "Can you say that on TV?!" as Fowler looked on in horrified delight. Hilarious moment. Even better, Herbie channeled his inner 13 year old the rest of the show as he couldn't stop laughing at Corso's gaffe.