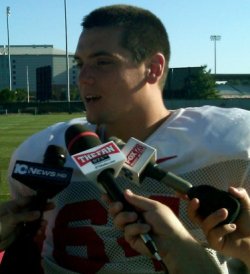 With another chance for the Buckeyes to earn some much needed national respect in the face of five straight losses to top 10 opponents, it goes without saying there's an avalanche of pressure to perform this Saturday night in the Shoe.
There's been plenty of blame to go round with seemingly every unit failing to execute during the period running from the 41-14 whitewashing at the hands of Urban to the last second punch in the gut versus Texas this past January.
So, considering the dismal performances turned in by virtually every unit in one game or another, not to mention overall discipline/toughness issues, which unit has the most pressure on them Saturday night? Which could have the biggest influence on the overall result?
Quarterback Obviously, past QB failings fall largely in the lap of Todd Boeckman who spent more time slowly running for his life than shredding defenses. As for Pryor, he at least had some up's to go with his down's in losses to USC, Penn State and Texas last season. He'll obviously have a chance to be the biggest difference maker as I think all of us expect Tressel to put the game in LiC's hands by calling a high percentage of plays that give him the option to run or pass.
The pressure comes in the form of decision making and delivering accurate throws, something he was able to do against USC (7/9) and PSU (16/25) but regressed to a disappointing 5/13 against Texas after we filled our heads with the notion he would improve mechanics during the long bowl preparation. With Tressel presumptively prepared to hand Pryor the keys to the entire offense, he'll be given a level of responsibility for a win or loss not seen since Troy was running the show. Pressure? What pressure?
Offensive Line No unit has taken more heat for big game collapses than the offensive line and deservedly so. Last season they helped the rushing attack manage a paltry 2.0 yards per carry against PSU, forgot the snap count repeatedly, and pass blocked to the tune of nine sacks surrendered including five against USC. I don't want to even think how high that number would've been if not for Pryor's ability to escape a collapsing pocket.
With no group more important to the success of an offense - or under more scrutiny - the line has more to prove than any other unit. It's gotten so bad that Tress had to restrict Bollman to only coaching the centers and guards with Peterson taking over the tackles and ends. Throw in the fact this group has a left tackle starting that most thought wouldn't see extended minutes combined with Cordle's struggles at guard and now right tackle and you've got yourself a unit with their own heaping helping of pressure to step up in a big game. Of all the units, they continue to be the most concerning even after a better than first glance performance against Navy last week.
Defensive Line Much has been made of the defensive line being the strength of this team but even an above average performance Saturday could mean a stalemate in the trenches considering USC's offensive line is arguably the best in the country.
It will take a monster effort to not only get an effective pass rush to disrupt Barkley but the tackles must at least keep the o-line from getting blocks on the linebackers trying to contain USC's stable of running backs. If they can't at least slow the run forcing Barkley into obvious passing situations, it's gonna be a long night in the Shoe. Last year, the Buckeyes managed just one sack while USC averaged 5.1 yards per carry. I have a lot of confidence that this group will fare much better than last year and will show up and do their part to engineer a potential upset.
Linebackers Coming into the season we were all pretty high on the LB's, particularly the depth, but now Moeller's gone for the year and Spitler appeared to be wearing Anvil-cleats a week ago. Again, taking into account the challenge facing the defensive line, it could be the linebackers who have the biggest impact on OSU's ability to slow the USC attack. Rolle, Homan and company will have to show an ability to shed blockers and get to the sideline, while being careful not to overpursue if there's any chance to keep USC under 30 points. Factoring in USC's speed at RB, I don't know how it's possible that we don't see more of Sabino this week.
The loss of Moeller also hurts the LB's in that USC loves to utilize their tailbacks and fullbacks as receivers forcing the linebackers to prove they have some coverage skills in their arsenal. We've seen linebacker pass coverage be a huge issue in previous big games (ie: Little Animal, Freeman) whether in zone or man which makes me extremely nervous. Could it be the LB's will have the biggest hand in determing a win or loss?
Secondary Even with a freshman QB in town, you've got to be concerned about the OSU secondary holding up against USC's expert playcalling, big play ability of guys like Damian Williams and receivers out of the backfield such as Havili. It's no secret those two burned OSU for 3 TD's last season.
The good news is Anderson Russell has finally been relieved of his starting free safety duties with Coleman taking that spot and Hines sliding into the strong safety role, as Keith discussed yesterday. The bad news is Russell will likely still see heavy minutes in the nickel and he can say what he wants but after giving up OSU's last three TD passes against, I don't see how it's possible his psyche isn't incredibly fragile. Think Pete will target Russell early and often? Me too.
Throw in the fact Amos/Torrence are unproven talents at corner and you better hope the defensive line is able to get pressure and/or the blitz actually has an impact this year after USC had little trouble picking up the numerous blitzes Heacock attempted in the Coliseum. In other words, I hope you don't need it, but keep the nitro-glycerin handy. It seems the hopes of the secondary holding up are more about the defensive line playing lights out coupled with Barkley not being ready for the Shoe. Both are at least fathomable so there is room for a touch of optimism.