... You thought it would take a Brian Rolle conversion return in the waning minutes to secure a win against Navy. Okay, please put your hand down Mr. McCain.
For whatever reason, Tressel's Buckeyes once again played to the level of their competition in narrowly escaping with a 31-27 win over the Naval Academy. And for the second straight season, the team heads into a matchup with USC with more questions than answers.
I suppose I shouldn't be so quick to sell the Middies short. Quarterback Ricky Dobbs looks like the real deal and if he can continue to throw as well as he did in the Horseshoe today, the combination of that and the triple option could be very well spell trouble for the rest of the teams on Navy's schedule.
I've always been of the variety that believes a win is a win and we only have to look back to the 2002 season for proof that you can still capture crystal or have an otherwise successful season without blowing every one of your opponents out. Hell, if you play in the SEC, you can even lose a game and capture the MNC. But win or not, there are reasons to be concerned and if the Buckeyes come out and lay an egg against the Trojans next weekend, you can bet the change brigade to amplify their desires. And you know what -- perhaps they'll be on to something.
Offense
Pryor and the offense got off to a quick start, capitalizing on the field position Brandon Saine had provided with his return (via reverse) of the opening kickoff to the Navy 49. Facing a 3rd and 10 from the Middie 38, Pryor bought time against the Navy rush and found Dane Sanzenbacher on a strike over the middle to put the Buckeyes up 7-0. Dane showed good balance getting through a tackle and there was much joy in the stadium.
After Navy tied the score at seven, Pryor marched the Buckeyes down to the Navy five before settling for a 23 yard field goal to put the good guys back ahead 10-7. The drive was highlighted by a screen pass to Posey, a flare to Saine and a nice throw and catch with Ballard -- basically three play types that the fanbase had been clamoring for in recent years. Again, all was well in Columbus.
The next time the Buckeyes had the ball, things got off to a rough start with a fumbled snap and that soon led to a three-and-out. After a Dobbs fumble, Ohio State took over on their own 44 and Pryor went 4/4 including Duron Carter's first career reception and another catch out of Ballard (!!) before Pryor took a bootleg in from two yards out to put OSU ahead 17-7.
After forcing a Navy punt, the Buckeyes took over again, this time with Bauserman at quarterback. While I understand Tressel's philosophy of getting his backup quarterbacks non-garbage playing time, you do have to wonder whether it's the right move in terms of momentum. Though Bauserman did lead the team to a field goal putting the Buckeyes ahead 20-7, making it a three-score game at the half seems to be the play Urban or Petey would have made. And maybe that's why they win so damn much.
The opening drive of the second half brought back memories of all of the drives prematurely killed by penalties during the past handful of seasons (including quite a bit of red zone opps). Taking over at the Navy 42, Sanzenbacher picked up four yards on an end around and then the creepshow hit: on successive plays, the Buckeyes were whistled for a false start (Boren), a delay of game, and then a holding penalty (Cordle). I'm still trying to figure out how you follow-up a penalty with a delay of game, but I know I've seen this team pull it off at least once in each of the last three seasons. What was once a promising drive with the ball on Navy's side of the field quickly turned into a 2nd and 26 from the OSU 42. Needless to say, a punt soon ensued.
After Navy put together a 99 yard touchdown drive to cut the lead to six, the Buckeyes answered with a short drive of their own culminating in a 52 yard Pettrey field goal. Two plays later, Coleman forced a fumble and OSU quickly took advantage with Boom scoring on a tough six yard run up the middle. Pettrey followed up his booming field goal on the previous possession by missing the extra point, but whatever, the Buckeyes were now up 29-14 with just over eleven minutes remaining in the game.
Then things got really weird scary. After a Coleman interception, the Buckeyes took over at midfield and quickly moved the ball to the Navy 15 where they ran into fourth down. With just two yards to go to pick up the first down, Tressel gave in to his quarterback's wishes and went for it, running Boom right behind Boren. He was stuffed and the Middies took over. Hey, we're fans as well and we normally love going for it on 4th and short -- especially that deep in enemy territory, but again, making it a three-score game especially with under seven to play was probably the right move. Besides, doesn't it seem like it's been a long, long time since this team has converted a meaningful fourth down conversion?
Navy, of course, would take advantage, scoring on an 85 yard touchdown pass on the very next play and the Buckeye offense took over again on their own 28, clinging to an eight point lead with six minutes remaining in the game. After picking up a first down, Pryor followed up a Taurian Washington drop with an interception that was returned 28 yards. Navy would score on three plays later, cutting the lead to two and setting the stage for Rolle's heroics. After that, the offense would have one more, clock-milking possession before holding on to the narrow win.
Putting up thirty (give or take a couple) is about what we thought the team would do and there were many positives to take away from today's game. Duron Carter is going to have an impact this season, Saine showed something that was missing on his end last season and Jake Ballard had a career day with three receptions for 51 yards. Further, tight end Jake Stoneburner notched his first career catch and this might just be the year the tight ends are utilized in the passing game in Columbus. I also liked seeing the swing passes to the backs and there were times, especially in the first half, that Pryor looked like a true passer.
But on to the things that didn't exactly look great, most notably the effort of the offensive line. This is unit that felt their position coach had come under undeserving pressure and many of them went out of their ways to say they were going to bust their ass for Bollman. Unfortunately, they backed up their talk by turning in another lackluster effort.
But, you know what? For once, I don't really have a beef with the playcalling (outside of perhaps the decision to go for it late on 4th down). Tressel called a lot of the stuff we'd been clamoring for him to call and the offense showed some versatility. Instead, a lot of the problems that we saw can be attributed to execution -- or rather a lack thereof.
Defense
It's really hard to gauge the unit's performance considering the uniqueness of Navy's offensive attack. I think it surprised the team that Dobbs was so effective passing the ball and you could probably make an argument that he outplayed Pryor on the day. Still, the 186 rushing yards surrendered to the triple option were well under what Navy teams of the last four years have put up on average. And I do think the Middies will average considerably more on the ground than they went for on Saturday, so call that a win if you will.
The defense also took two fumbles and an interception away from Navy, the first coming on a Thad Gibson hit on Dobbs and then followed up by a Coleman strip on a receiver and then an interception on back-to-back drives in the second half.
But the fact remains that Navy was able to put together several long touchdown drives. And by several long drives, I mean 80, 85 and 99. Pretty much as long of drives as you're likely to see on any given Saturday. And three of them.
The first of those drives, coming immediately after the Buckeyes had scored to go up 7-0 on their opening possession, ate up 6:54 of clock before Dobbs went up the middle nearly untouched to cap an 80 yard march. The 99 yard drive was even more impressive, coming on Navy's second possession of the third quarter after Anderson Russell downed a Thoma punt inside the Middie's one. Amazingly, they only faced (and converted) two third downs the entire drive, the second of which was a beautifully thrown 16 yard strike to Marcus Curry to cut the lead to six. The final mega-drive was quick and all Curry as he caught a ball over Anderson Russell and held him off crossing the goal line to score on an 85 yard pitch and catch -- good enough for the third longest passing play in school history.
Give Navy credit. Dobbs (18/95 and 2 TDs on the ground; 9/13 and 2 TDs and an INT passing) and the offense did a good job of mixing things up, coming out passing to start more than a few possessions and all four of their touchdowns seemed to come way too easy. Indeed, the 27 points allowed by the Buckeyes were the most they've given up in an opener since 1950. As in nearly 60 years ago.
Aside from leading the team in tackles with nine (six in the first quarter alone), Rolle's play on the conversion is what you want to see from the guys that step up when the game is on the line. No matter that Dobbs didn't see him and put the ball right into his chest, taking it to the house was impressive. The play effectively killed any thoughts of a Middie onside kick + field goal combo to win the game.
Outside of a couple of plays, Coleman also turned in a solid ballgame. As mentioned above, the turnovers he created on back-to-back possessions late in the game might very well have been the difference between a win and a loss. Gibson had his moments (forced fumble, two TFLs), but disappeared at times. In all fairness, a triple option is not exactly the type of offense that plays into his skillset.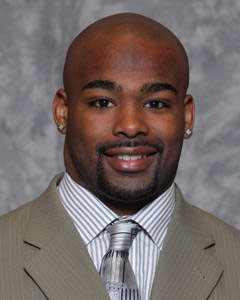 Larimore had a solid game (7 tackles) and Homan showed up, but I thought Spitler looked slow out there at times and with Joe McKnight coming to town in a week, this makes my tummy hurt. Hines finished with just three tackles, though he did have a big second half sack. I just thought he'd be a little more involved in the action given the opponent's offensive style.
And finally we get to Anderson Russell. His defense on Curry's 85 yard touchdown was curious at best: get beat and then peel off five yards in the opposite direction before desperately trying to close, and he was also burned on Curry's first touchdown reception earlier in the game. For a guy that was getting pressed by Hines for his starting spot, this is not exactly the game he probably wanted to turn in. When you consider his final play against Texas in January, you have to believe that he may soon be playing as a reserve -- Tressel's love of seniors be damned.
Special Teams
We'll keep this short and sweet, because quite honestly special teams didn't play a huge part in the game. Of course, Rolle's return could count, but we're keeping that in the defensive slot because of the situation and personnel. Thoma had a nice day, averaging 44.5 on two punts and Pettrey did bang in that 52-yarder which is nice to see, but he followed it up with what could have been a costly miss on an extra point. With Ray-Ray sick, Dane handled punt returns and fared well, averaging 8.5 on two returns even if he does make me a little nervous back there. Loved the trickery on the opening kickoff and Flash averaged 23.5 on his two returns which is golden when you consider the team averaged less than 20 per kick return last season (the worst performance by the Buckeyes in kick returns in over a decade).
Etc
Pryor honored Mike Vick with "VICK" on his eye black. Interesting.
Posey twisted an ankle and didn't see any time in the second half of the game.
Navy stopped by to salute/sing with the Buckeyes after the game. Classy.
The announced attendance of 105,092 was an opening game record for Ohio Stadium.
Navy dropped to 6-2 in season openers during the triple option era at the school.
The Buckeyes will return the game with Navy in 2014 in the DC/Annapolis area.
Dane also scored the first touchdown of the 2007 season as a true freshman.