For those of us who are old enough to remember reading "Peanuts" cartoons in the Sunday funnies section of the newspaper, the gag about Charlie Brown trying to kick the football while Lucy holds it is as familiar as the arrival of fall in Columbus. Of course, no matter how much Charlie Brown convinces himself that this time, he's going to kick that thing to kingdom come, the result is predictable. If you have ever felt that kind of frustration, then you know what it was like to be an Ohio State fan when your favorite team lined up to play Illinois in the late 80's and early 90's.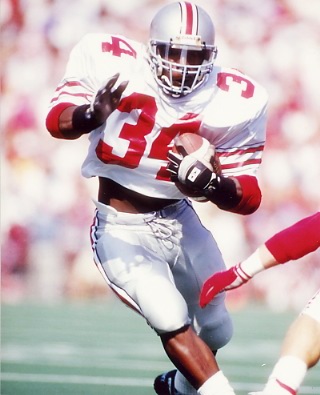 Most OSU fans from that period can readily recite Coach John H. Cooper's record against Michigan, but they might have forgotten the difficulties he had with the Illini in his early years. Coach Cooper lost his first 5 games against Illinois, and 6 out of the first 7. Of course, after that the Buckeyes took out several pounds of flesh from the Illini during a 4-game winning streak from 1995-1998, a span in which they outscored Illinois 171-9. But during that initial 5-game losing streak, Illinois annually played the role of Lucy to OSU's Charlie Brown.
Ohio State had reason to be optimistic going into the 1993 season, despite losing some key players. Star running back Robert Smith and starting safety Roger Harper left early to jump to the NFL, and QB Kirk Herbstreit and WR Brian Stablein had used up their eligibility. But Raymont Harris was a talented and experienced RB and the coaches had high hopes that former St. Henry high school phenom Bobby Hoying would seize the QB job and excel at the position. There was also huge untapped potential with young receivers Chris Sanders, Buster Tillman, and Terry Glenn. Former starting WR Joey Galloway returned after losing most of the 1992 season to a leg injury, and he appeared to be even faster than before. The defense was anchored by DE Jason Simmons and LB's Lorenzo Styles and Craig Powell.
OSU approached their road game against the Illini with considerable confidence. Surely this would be the year they broke the losing streak. They had already laid a 63-28 road whipping on the Pitt Panthers and had vanquished the visiting Washington Huskies 21-12 in a nationally televised night game. They also spanked Rice 34-7 and crushed Northwestern 51-3. The team was 4-0 and on a roll. Harris had gotten off to a great start running the football, and Galloway was making big plays and scoring touchdowns left and right. Hoying was effective as the starting QB, and he was supplemented by senior transfer Bret Powers in a sort of QB platoon. On the other hand, Illinois was struggling to find an offensive identity with new QB starter Johnny Johnson and appeared more vulnerable than they had been for years.
OSU got off to a quick start as Johnson fumbled the ball away on Illinois' very first offensive play. Three plays later, Hoying hit Galloway on a 14-yard slant for a quick touchdown and a 7-0 lead. Later, the defense forced the Illini to punt deep in their own territory. Coach Cooper smelled blood and he sent kick-blocking specialist Tito Paul on an aggressive rush for the block. As the punter saw Paul approaching him, he rushed to try to get the punt off. But as he reached the ball out it slipped from his hand and Paul slammed into him, knocking the ball into the end zone. Reserve WR Terry Glenn recovered it for his first collegiate touchdown (but not his last, see below). Tim Williams added a field goal for Ohio State and the Buckeyes led 17-3 at the half.
Unfortunately for OSU fans, the offense did very little other than take advantage of Illinois turnovers. But Illinois hardly fared better. At their home field in Memorial Stadium, the wind is often fierce and unpredictable. On this day, it was such a factor that the two teams eschewed the passing game for the most part when moving against it. OSU's offense struggled going against the wind in the 3rd quarter and frequently gave the Illini excellent field position. On one such occasion Illinois got the ball in Ohio State territory but had to settle for a field goal. On the ensuing kick-off, Glenn fumbled the ball away to the Illini, but the defense held and forced another field goal.
In the 4th quarter, OSU had the wind at their backs, but still Coach Cooper did not trust his young QB to make first downs through the air. So they ran the ball repeatedly and were forced into 3-and-outs on almost every drive. But they finally broke through to kick a field goal and go up 20-12. Illinois mounted one more threat, and even appeared to score a touchdown on a 33-yard pass from Johnson to TE Ken Dilger. But they were called for Ineligible Man Downfield on the play, and OSU dodged the bullet a few plays later when safety Tim Patillo sealed the game with an interception.
After the game, Cooper repeated again and again that "a win is a win", and after 5 years of futility against the Illini most OSU fans were willing to settle for that. But there was an uneasy feeling about shutting down the offense for almost the entire second half, and it seemed as if the lack of aggressiveness on offense had affected the team as a whole. Still, they had forged a tough victory on the road in the Big Ten, which is something to be cherished in any season even if the opposition is not exactly formidable.
Ohio State would finish the season 10-1-1, defeating BYU in a tougher-than-it-should-have-been Holiday Bowl game 28-21. OSU led 21-7 early in the 2nd quarter but the offense seemed to mostly shut down after that and they were once again forced to hold on for dear life as BYU got closer and closer before failing to crack the end zone on multiple tries at the end. Coach Cooper had "guaranteed" victory prior to the game, and so the win was a vindication of sorts. However, that victory only partially relieved the sting from a 28-0 beating the team had received at the hands of a mediocre Michigan team in the season finale. OSU looked as if they had "mailed it in", despite entering the game undefeated (having tied Wisconsin in Madison) and ranked in the top 5. Now that we are in the Tressel era, the idea of Ohio State not showing up against the boys in blue is unthinkable, but such strange events were commonplace in the Cooper era.
Raymont Harris rushed for 235 yards against BYU, the 5th highest single-game total in school history. For the season, he finished with 1344 yards on 273 carries, putting him in the top ten all-time in career rushing yards at OSU. Harris was voted team MVP, and OSU linemen Dan Wilkinson and Korey Stringer were selected as All-Americans. Galloway would play one more (scandal-tainted) season at OSU before beginning his long and successful career in the NFL. Hoying would have an excellent career as a Buckeye, ultimately finishing 2nd all-time in career passing yards. Terry Glenn got his big opportunity in 1995, and made the most of it by hauling in 64 passes for 1411 yards and a school-record 17 TD's, winning the Fred Biletnikoff award in the process. As for Cooper, the 1993 season was a turning point for the better as OSU mostly dominated the Big Ten (if not their arch-rival) for the rest of the 90's.