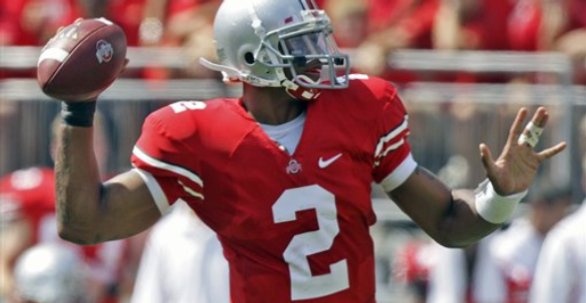 Phew. That was fun, wasn't it? Nothing like starting the season on the scariest roller coaster ride in the park versus a simple stroll down the lazy river sipping a cold one. Still, though I have lots of opinions just like you, it's probably best to remind ourselves that the 31-27 win over Navy was against an unconventional opponent meaning we really have no idea how good, or bad, this team might be. I view this game as far more positive than last year's season opener, despite the score, as we saw plenty to be excited about mixed in with the stuff that made us want to share our Buckeye necklaces with the living room drywall.
The Passing Game
I seem to be one of the few that will offer a critical assessment of LiC which sometimes is misconstrued as me insinuating he's not a great player but I thought TP did some very good things yesterday coupled with a few areas of opportunity.
I still see some issues with where the ball is delivered. A few of his passes to RB's swinging out of the backfield caused Saine or Herron to slow their momentum toward the line or sideline thus hurting the effectiveness of those timing plays. There were also two occasions where he didn't release the ball fast enough to WR's running out patterns and by the time the ball got there, the receiver was already out of bounds. Another accuracy issue occurred early in the 2nd quarter when Ballard was all alone on 1st and 10 from the Navy 44 but had to lay out for a the ball just to catch it when, if hit in stride, he could've turned upfield for at least another 15 yards on top of the 16 gained on the pass. Again, take a deep breath if you are getting all worked up. I know we are talking about a few passes but we are also talking about a guy with the potential to be a Heisman winner and national champion next year and for both of those to happen, these are the types of things he needs to shore up.
As I said, I still saw far more good than bad from TP and the passing game. I loved the improved zip on Pryor's throws, especially over the middle. He hit Ballard with a 19 yard laser and connected with Posey and Dane on some purposeful throws on slants and in-routes. Even the swing and screen passes to the RB's (regardless of location) had the type of velocity needed in order for the play to be successful. I was very impressed with his commitment on most of his throws and I really enjoyed watching him scramble with the purpose of buying time to locate a receiver instead of scrambling with his head down giving up on a potential throw too early. Seeing him step up in the pocket, shuffle back and to the left before again stepping up an into a throw to Dane over the middle immediately made me think back to when Troy started showing signs of maturing into a great quarterback. Fun to watch.
Just as fun to watch was Tressel's playcalling featuring more passes to RB's and TE's in one game than I can ever remember. Ten of the 17 completions were to those guys, good for 118 of the 210 passing yards. No, that is not a misprint. Obviously this is significant because we haven't seen JT utilize his talent at tight end in recent years and there's no question Saine can do damage as a receiver by creating matchup problems for opposing LB's in coverage. Oh, and TP hit seven different receivers. Good stuff.
One quick word on the hot topic of Bauserman getting an early series...I understand why some of you are upset but I think it was a good move. Though TP is a physical specimen, he's going to take some shots this year and if you watched Oklahoma lose last night, you know it's important that the backup has some reps with the ones just in case.
Boom & Zoom
Me likes what I saw from Boom and Zoom yesterday, especially when I consider what the offensive line showed me against a small Navy front. Saine ran with the same quickness we saw in the spring game which was nice to see after I left unimpressed with him both times I saw him in scrimmages/practice during fall camp. I liked how he hit the hole fast instead of dancing like we've seen in the past. Besides toughness (ie: avoiding injury) that's why I've always preferred Boom in the backfield. He makes a decision and hits the hole quick every time.
Boom racked up 101 yards (72 rush, 29 rec) with Zoom adding 74 yards (53 rush, 21 rec). The two combined to average 4.8 yards per carry and 8.3 yards per catch. Not electrifying totals but solid nonetheless. Assuming Saine stays healthy, I feel comfortable with a two headed monster shouldering the rushing load and there's obviously a greater chance he will stay healthy if he's only getting 10-15 touches per game. He had 11 touches yesterday compared to 21 for Boom.
Not that I expected to see either one considering the score but with USC on deck that means the first two games will have gone by without Berry or Hall seeing the field. The question now is probably whether or not both will redshirt or if just one will. My guess is Hall will eventually redshirt but not Berry, just for insurance, even though Hall has been far more impressive to date.
Your Weekly Duron Carter Update
I've shown DC love since he arrived on the scene and I only see my love getting stronger for the kid with the golden genes. He had a modest 21 yards during his three catch debut but his potential is obscene. His hands are like football-hunting spider webs and his seven yard reception on 3rd and 5 on the TD drive that would put OSU on top 17-7 was a perfect example. The throw was a little high and he effortlessly threw up his gangly fingers and snared the ball in traffic before quickly bringing it to is chest.
Carter also found himself wide open over the middle for a potential long gain but he either broke in too early or else TP mistimed the throw. Either way it was an incompletion but DC was wide open and adjustments will be made next time around.
With Small going back and forth between either being sick or making the fanbase sick combined with Mr. April having a tough time hanging on to the football, I'd imagine Carter will get every opportunity to prove he belongs on the field more than Washington, and possibly Small. I'm excited to see what Carter can do next week against a real secondary and I'm even more excited to watch his future unfold.
I Heart Chris Spielman
I know, we all love Chris Spielman but how great was yesterday? Not only did we get the pleasure hearing his best in the business color commentary but we also got to see him celebrated on the field in the presence of his kids and especially his wife, Stefanie. It's no secret she's not doing well in her latest battle with recurring cancer and to see the look in Spielman's face as he was recognized by the crowd and again when he described the moment on TV - you could just tell he was so happy she was able to be there with him. Great moment. Greater people.
Spielman's emotion didn't stifle his usual booth-hilarity as the one liners were flowing all day. I think my favorite was when he accused the Navy offense of attempting "A Criss Angel mindfreak" when they attempted some formation shenanigans on 4th and 2 in hopes of OSU possibly jumping offside. I was also cracking up when he got on the Navy safety's toughness after being hurt twice in the first half as he offered up something to the effect of, "If I were his father I'd tell him to take a pill and get back out there!". Griese, of course, made a wussy comment about these being college kids but Spielman would have none of it. I hope he's paired with Brian's Dad the rest of the year as that will make Spielman even funnier than usual with the added bonus of Griese squirming by his side.
Shuffle
Even for a game one, the penalties were a little disheartening especially the three in a row on the first drive of the 2nd half. I know it's been touched on but a delay of game after a false start?! How does that happen? Ballard's rare false start on 3rd and 8 also cost OSU a shot at a TD, instead settling for a FG. You can't beat USC with six penalty nonsense.
I didn't really touch on the defense because I refuse to put much stock in how they performed against the triple option even though they did hold Navy to almost 100 yards less than last year's rushing yards per game average (292/186). Overall, I liked the play of Williams and Thaddeus on the edge against an offense that negates what they do best but I was most impressed with how Larimore played. He was very active (7 tackles) and seemed to quickly recognize when the FB did or didn't keep the ball on the dive preceding the option. At LB, Rolle was as good as advertised but I need to see what he can do against USC. I'm not doubting him, I just need to see it against an opponent with a crazy rushing attack before I gush any further. Spitler never really caught my eye which makes sense considering his two tackles. I expected to see more Sabino but it never materialized. I liked how Coleman bounced back from some poor play early. He finished with nine stops and his INT was an incredible play. Great read, great break on the ball and an excellent catch.
Anderson Russell. How many times do I have to watch the same mistakes over and over before he doesn't play anymore?
Jake Ballard: Sans the false start, he had a solid game. I love his hands (3/51) and I'm still shaking my head at the fact he isn't a captain.
I assume you are all just as nervous as me about the offensive line heading in to USC? I know many are upset about Tressel going for it on 4th and 2 triggering the Navy comeback but the real problem is that the line had a chance to put the game away on that series and instead we got a one yard gain on 2nd and 3 followed by no gain on 3rd and 2 and and one yard and 4th and 2. Brewster and Cordle seemed to have the most trouble yesterday and picking up blitzes was a constant struggle. Not cool.
Special Teams: I thought Dane did a nice job in his debut as punt returner. He's no Ray Ray but I liked the north-south mindset he showed on his 15 yard return. Pettrey is straight money. That 52 yarder would've been good from 62, easy. I like how his long kicks still have the necessary height to clear the line of scrimmage. Thoma's two punts averaged 44.5 with a long of 53. I'll take it.