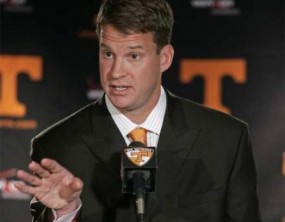 With the professionals back in full swing, Fall is officially in the air. We've reached the part of the year where no matter how cruddy the work week's going, you're always no more than 2 days away from football being played.
This weekend's slate could help us defuse some of the preconceived notions we had going into the season, and begin to really get a feel for which teams are for real, and who the paper tigers of the college football landscape are. From BCS teams meeting out-of-conference opponents to Mountain West and WAC teams seeking to keep their BCS dreams alive, week 3 reminds you it truly is the most wonderful time of the year.
National Games
#12 Georgia Tech at #17 Miami, 7:30PM Thursday - ESPN
The first game of Week 3 serves as the first round in the round robin to determine the ACC Coastal Division. Coming off a huge week 1 upset of Florida State, Miami looks to showcase their young talent and see if they can put it together against the always difficult to prepare for flexbone. Last Thursday, the Ramblin' Wreck jumped ahead to a huge lead early only to struggle to hold off a feisty Clemson squad. Against a more talented Miami club, GT will have to put together 60 minutes of consistent football to escape Miami with a victory.
#9 Boise State at Fresno State 9:00PM Friday - ESPN
The first compelling Friday night contest of the '09 season, Boise State travels to face a Fresno State team coming off a disappointing double-OT loss at the hands of the Wisconsin Badgers. If ever there was an opportunity to catch the Broncos off guard, it's away from the comfy confines of the smurf turf. Pat Hill's group looks to play spoiler for the Boise BCS aspirations and seek a WAC championship of their own
Tennessee at #1 Florida 3:30 PM - CBS
Obviously on paper, this shouldn't be much of a football game. One team the defending national champions, the other with a giant catfish for a quarterback. Despite Florida being early 27.5 point favorites, this game (well, at least the first hour or so) should make for some of the most compelling viewing of Saturday afternoon. You don't need to be reminded what first year Tennessee man Lane Kiffin promised about singing "Rocky Top" all night long after beating Florida or calling Urban Meyer a cheater. While it would seem probable Florida will coast on the experience and depth of talent advantages they possess, the chance (no matter how improbable) of something unthinkable happening makes this contest worth keeping an eye on.
#19 Nebraska at #14 Virginia Tech 3:30 PM - ABC/ESPN2
On at the same time as the UT-UF bout, this game has all the makings of perhaps the game of the weekend. These two defensive minded teams square off in always hostile Blacksburg with Bo Pelini looking for his a signature win as the Nebraska head coach, and Frank Beamer looking to bounce back from two weekends ago's let down in Atlanta against Nick Saban & Alabama. Despite starting running back Darren Evans being out for the year, the Hokies managed to produce 2 160+ yard rushers in freshman David Wilson and Ryan Williams against former Ohio State defensive coordinator Mark Snyder's Marshall Thundering Herd. The Huskers D, while not quite yet up to the Blackshirt standard of old, should present another difficult test for Va. Tech's Tyrod Taylor.
#20 Utah at Oregon 3:30 PM - ESPN
With a surplus of quality games at the 3:30 eastern slot, a game The Good Doctor accurately called one of the most potentially revealing of the week pits the 20th ranked Utes against Chip Kelly's Ducks. Despite laying an egg two weeks ago in Boise, Oregon bounced back nicely taking down a hungry Purdue team 38-36 in Week 2. Kyle Wittingham's Utes face their first real test of the '09 season which should allow us to see if a follow up to last season's sound defeat of Alabama will see a BCS encore or not.
#16 Cincinnati at Oregon State 6:45 PM - Fox Sports Net

Florida State at #7 BYU 7:00 PM - Versus
These two compelling early evening games should tell us a lot about the Bearcats and the Cougars respectively. Oregon State, coming off a near upset trip to UNLV, and Florida State, after needing to escape from Ryan Perrilloux and FCS Jacksonville State, look to play the spoilers. Brian Kelly's Bearcats look to add an out of conference win to the resume in the return trip to Corvalis, while Bobby Bowden's bunch simply seeks to get their season back on track after a rough first two weeks.
Big Ten Games
#6 California at Minnesota 12:00 pm - ESPN/ESPN2

In the first marquee game for the gorgeous new TCF Bank Stadium, the Golden Gophers look to upset Jeff Tedford's Golden Bears. Kevin Riley and Heisman candidate Jahvid Best look to improve upon last season's half hearted effort in College Park against Maryland, while Coach Brewster knows that a shocker against the Golden Bears could help get the Gophers on the national radar.
Arizona at Iowa 3:30 PM - ESPN2/ABC

If not for being at the hyper deep 3:30 PM time slot, this game would make for an interesting Pac 10/Big 10 showdown. After avoiding their usual letdown trip to Ames, Kirk Ferentz' bunch host Mike Stoops' Wildcats in a game that could serve as a potential out of conference argument for whichever conference wins it.
Michigan State at Notre Dame - 3:30 PM - NBC

From a matchup of two ranked teams to two hobbling, unranked teams looking for redemption, Coach D's Sparty take on Charlie Weis' Fighting Irish. The Irish still seem bitter about 4 year's ago flag planting incident, while Michigan State looks to continue their recent history of success at Notre Dame Stadium and seek to make Coach Weis' hot seat even hotter.