During the season we will be doing a weekly flashback series that looks at a game from the past featuring Ohio State's next opponent. OSU's first game this season is against Navy, and so our first flashback article will focus on the last meeting between the two teams: the 1981 Liberty Bowl game.
The 1981 season was a strange one for the Buckeyes. In 1980, the team had been ranked #1 at the start of the season. But the new members of the offensive line had not come together well and it showed when they went up against solid defensive teams like UCLA and Michigan. OSU went 9-3 that season, the first of six straight 9-3 seasons for coach Earle Bruce. In 1981, expectations were much more modest. There were few returning starters on defense, and the entire secondary would have to be rebuilt. The offense, led by senior quarterback Art Schlichter, was well-equipped to make people forget about the previous season. But it would be the defense that would be the weakness of the team throughout the season.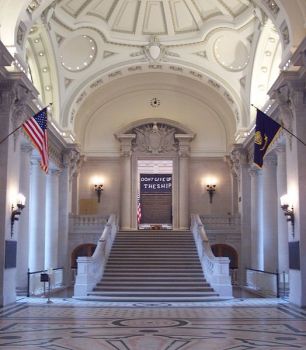 Four new starters in the secondary, combined with a lack of any consistent pass rush, meant that no lead was safe for Ohio State. But the non-aggressive approach from the defensive coaching staff made even experienced defensive backs look bad. The fans got a preview of things to come in 1980 against Illinois, when Illini QB Dave Wilson passed for an NCAA record 618 yards. OSU still won the game (amazingly), but the carnage on defense was staggering. In 1981, those kinds of days would become almost routine.
In an early season non-conference road game at Stanford, future NFL Hall of Famer John Elway led his team back from a 24-6 deficit with 2 fourth quarter TD passes. They got the ball back and started to drive again, but fortunately RB Vincent White fumbled and OSU recovered to preserve a 24-19 win. The next week, the pass defense was shredded even more severely in a 36-27 home loss to Florida State. And so it went. Illinois QB Tony Eason passed for 368 yards, Purdue's Scott Campbell passed for 516 yards, Minnesota's Mike Hohensee passed for 444 yards. It had become open season on OSU's pass defense.
Fortunately, Michigan had been a running team almost exclusively, and so OSU managed to escape Ann Arbor with a 14-9 victory. They finished the Big Ten season at 6-2, good enough for a tie for 1st place. But there would be no tie-breaker game because the other 6-2 team was the Iowa Hawkeyes, and they were the only B10 team that OSU would not play that season. Iowa secured the Rose Bowl bid due to not having been there for a long time. Ohio State was relegated to the Liberty Bowl as a consolation prize.
Navy looked like the kind of team that OSU could handle. They mainly ran the ball, and that was good for the Buckeyes. Ohio State was giving up an average of 273 yards per game through the air, but only 95 per game on the ground. If Navy was going to beat Ohio State, they would have to do it by throwing the ball, something they didn't do often during the season. Navy QB Marco Pagnanelli had passed for only 809 yards for the season, so it seemed unlikely that they could pull the upset.
The game started out looking like exactly the kind of routine victory that most people expected as OSU raced out to a 10-0 first quarter lead on Bob Atha's 35-yard FG and Schlichter's 50-yard TD pass to Gary Williams. But a funny thing happened on the way to the locker room. Navy decided they weren't going to "give up the ship". At their own 45 and facing an obvious punting situation on 4th down, Navy coach George Welsh rolled the dice and went with the fake punt. The play worked brilliantly, resulting in a 39-yard gain to the OSU 16 yard line. From there, the Midshipmen punched it in as Pagnanelli threw a 1-yard TD pass to TE Greg Papajohn. Early in the 2nd quarter, Navy tied the game with a 41-yard FG. Suddenly, the momentum had changed and it was a real ball game.
OSU's Jerome Foster recovered a Pagnanelli fumble, and that led to a 1-yard scoring plunge by back-up tailback Jimmy Gayle. Navy countered with another field goal, but OSU took the 17-13 lead into halftime. In the 2nd half, the lead was short-lived as Navy forced a punt and then blocked the punt and carried the ball 20 yards for a touchdown. The punting game had been a problem all season long as Bob Atha was forced to do all of the kicking duties in addition to playing back-up to Schlichter at QB. Bad punting had played a big part in the loss to Minnesota earlier in the season and now it was threatening to cost them their bowl game. After all, we know very well that the punt is "the most important play in football". OSU was finding out just how important.
In the end, Navy had no answers for OSU's balanced offensive attack. Gayle scored again on a 2-yard TD run and Schlichter connected with WR Cedric Anderson on a 9-yard TD pass to take a 31-20 lead with only 5:22 remaining in the game. Navy still refused to surrender, going on a 97-yard drive culminated by another 1-yard TD pass from Pagnanelli to Papajohn with 0:08 to play. But OSU secured Navy's onside kick and they held on for a 31-28 victory. The win broke a 4-game bowl losing streak for OSU and made sure that 4-year starter and all-time passing leader Schlichter did not go out a loser.
For OSU, Schlichter passed for 159 yards and 2 TD's, while throwing 1 INT. Tim Spencer carried 22 times for 96 yards, and Gayle added another 88 yards (and the 2 TD's) on 15 carries. For Navy, game MVP Eddie Meyers carried 30 times for 117 yards, while Pagnanelli discovered his right arm to the tune of 201 yards passing. Future star and college Hall of Famer Napoleon McCallum carried once for no gain but caught two passes for 45 yards.
Although OSU finished 9-3 again, the defensive deficiencies were a heated subject after the season as coach Earle Bruce fired 3 of his defensive assistants including secondary coach Nick Saban. Navy coach George Welsh had announced prior to the game that he would be leaving Navy to become head coach at Virginia, and ironically he hired the newly fired Saban to be his secondary coach. To replace the fired assistants, Bruce would hire DL coach Randy Hart and secondary coach Dom Capers, and he also elevated graduate assistant Fred Pagac to full-time assistant in charge of linebackers. Bruce had apparently had enough of seeing big leads evaporate, and the never-say-die Navy charge was apparently the last straw that drove Bruce to make the changes necessary to "right the ship".