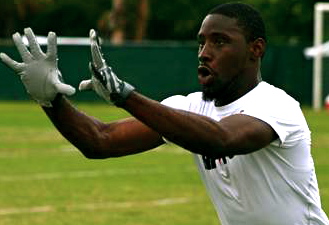 All the signs pointed to the speedy wide receiver from Delray Beach, Florida heading to the Florida Gators. Word on the street was that he gave a silent verbal to Urban Meyer and was just waiting until Florida's Friday Night Lights event to make his decision public. Gator fans thought they had found their next great speedy receiver in the wake of Percy Harvin departing early for the NFL and were chomping at the bit to get the 5'11" 180-pound athlete come signing day in February 2010. Then, something funny happened, as James Louis had something else in store for his future plans.
On July 29, 2009, the Sunshine State native surprised the gurus as he announced that he would play his college football in Columbus for The Ohio State Buckeyes. Rumors swirled that the Florida coaches were giving Louis the cold shoulder as they pursued other prospects, such as fellow Floridian Chris Dunkley, but one thing that was clear was that any love affair between the two parties was clearly in a rut. Louis maintained that the Buckeyes were always one of his favorites, and despite never making a visit to campus, felt the place for him would be Ohio State. Whatever the reason for his pledge to OSU, Buckeye fans are certainly happy to have Louis as a member of the recruiting class of 2010 and are hoping he will bring some of his Florida speed to add another dynamic to the Ohio State offense.
I got the chance to catch up with Louis recently and while I was really impressed with his film, I was equally impressed with how he conducts himself off of the field. See why Urban's loss is Buckeye Nation's gain, as James shares his thoughts on a number of issues including the status of his commitment, when he will visit Columbus, his thoughts on the Big Ten's bad reputation, and more.
Fans have heard some various stories of how it happened, but now that it has, how'd you become a Buckeye? First things first, the Buckeyes have been in my top 3 schools from day one. So, I just sat down and talked some things over with my family and I felt like Ohio State was the best place for me.
Is your commitment solid or is there a chance you'll sign elsewhere on National Signing Day? My commitment is solid. Ohio State is where I want to be and that's where I'm going to be for sure.
Now that you have committed, are you going to try and help recruit other players from Florida that OSU is recruiting? Yes, there are a couple of great players in my area that are interested in Ohio State right now, [and some] just haven't got an offer yet, but I'm going to try my best to tell my coaches to take a look at them.
You have never visited Columbus, despite committing to the Buckeyes. When do you plan to visit OSU? I'm taking my visit September 12, that's when they play USC.
You are being recruited as a WR, but many think you can be a great DB as well. What position do you like more and where do you think you will play at the next level? Well I'm a guy who loves to make plays. I think I'm a playmaker. I like offense better, but I like being on defense to deliver the blow to whoever has the ball in there hands.
How do you feel about the bad rep the Big Ten gets in the south and how can we expect you to help change that? I think that the Big Ten doesn't get enough credit at all. I'm not sure why but they give it all to the SEC. My big plans when I get to Ohio State is to change all that. My goal is to win the national championship and we will make it happen soon.
What are you concentrating on in terms of your personal improvement as you head into your senior season? I plan on being a leader this season. I plan on going hard every practice, therefore I'm getting my teammates and myself better. Also, I'm trying my best to win it all this season.
What do you plan to study at Ohio State? I'm not really sure what I want to study yet.
What do you like most about Ohio State? What do you want to learn more about when you visit? I like everything about Ohio State. I don't think I need to know any more about them.
What do you want Buckeye fans to know about you that they don't already know? I want all the Buckeyes fans to know that James Louis is a hard worker and I'm going to always give my all on and off the field. That's just the type of guy that I am...and when I get there I'm promising them a national championship.
And now, the highlight reel: