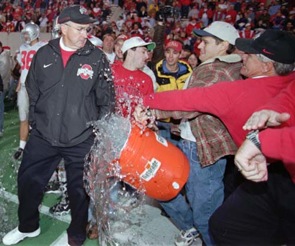 Nine years after coaching his last game and well over a year since the honor was announced, John Harold Cooper made his way into the College Football Hall of Fame over the weekend.
That he'd ever have the chops to join Lou Holtz, Troy Aikman and others in this class was never really in doubt. At his first stop as a head coach, the man built Tulsa into a winner, going 25-2 in the Missouri Valley Conference his last five years at the school.
From there he was off to Arizona State where he turned around a 5-6 Sun Devil team to 8-4 and a Pac-10 runner-up his first year on the job. In his 2nd season in Tempe, he went 10-1-1 capped with a 22-15 win over Michigan in the Rose Bowl. It was his coaching, more so than the fresh banana pants he wore for the game, that caught the eye of athletic director Jim Jones and the Ohio State search committee and on December 31, 1987, Cooper became the 21st coach at Ohio State.
In Columbus, Cooper greatly expanded the reach and success of the recruiting operation and proceeded to win 111 games, which included a stretch of six years in the mid-nineties that saw the Buckeyes as something they hadn't been since 1980: national championship contenders.
Even more impressive than the wins (which included some of the most lop-sided preseason games against BCS foes than you can possibly imagine including two Notre Dame spankings and a 5-3 mark against Joe Paterno before he was all zombie) was the talent. Eddie George, Orlando Pace, Terry Glenn, Robert Smith, Antoine Winfield, Dan Wilkinson, Joey Galloway, Korey Stringer, David Boston, Shawn Springs: all Cooper products. Every time you see a stat highlighting the number of Buckeyes drafted over the past X years, Cooper is largely to credit for that. He simply got the type of elite players that Earle had been failing to pull in before his ouster.
But Coop wasn't to be remembered for his many successes in town. He'd leave as persona total gratis in the eyes of Michigan fans, thanks largely to his 2-10-1 record against the Wolverines. In 1993 and 1996 (damn you, Tai Streets), a gut-wrenching season-ending loss to Michigan yanked the Buckeyes out of national championship contention. His 1998 team, perhaps the most talented team assembled in Columbus in the past 25 years, lost suffered its only defeat of the year at the hands of the other Big Ten representative from the state of Michigan, Nick Saban and his Spartans (damn you, Plaxico and here's your free title, Tee Martin).
And then there was his 3-8 mark in bowl game, which includes three Citrus Bowl defeats -- or 1/3 of the celebrated/despised 0-9 mark the Buckeyes hold in bowl games against the SEC. There was the contract extension the morning of a 31-3 blowout at the hands of the hated Wolverines and another instance in which a tie against Michigan was heralded as one of the program's greatest wins by Gordon Gee.
And mind you, this all came about after he got off to a rough start in Columbus by not being an Ohio guy and he did little to help his own cause, making hot tub and Big Bear commercials, complaining of the slow white kids he had inherited and biting his finger nails on the sidelines of close games, engendering absolutely no trust in his ability to coach in the biggest of games.
But despite all of this, despite Cooper leading teams into defeats that completely destroyed my adolescence, I've gone soft on the old man. I no longer choose to despise him for his many shortcomings or 2-10-1. Instead, I am remembering him for all of the good he did in Columbus. I'm remembering him for the folksy man that summed up freshman by saying "If a dog is going to bite, he's going to bite as a pup." Tressel's success has certainly made this easier, and I wonder if I'd feel the same if he hadn't done what he's done the last nine years, but if you can't at least bring yourself to recognize and appreciate the good that Cooper did at Ohio State, then you're either clueless, or hold irrationally long grudges. Neither is healthy.