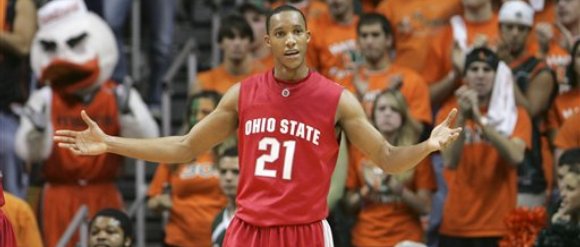 I must admit, I had visions of Evan Turner stealing the show for the Americans at the recently completed World University Games but it just wasn't meant to be as Turner was reduced to a role playing contributor on a team that was forced to settle for Bronze.
A chance for Gold went out the window with a 69-68 loss to Russia in the semifinals that saw Team USA outscored 20-9 in the 4th quarter after beginning the final quarter with a 59-49 lead. Turner was a ghost in the loss tallying just one point, one assist and three fouls in 12 minutes of action.
Turner and the Americans bounced back in the Bronze medal tilt versus Israel posting a 91-80 victory against the same team that beat Russia by 25 earlier in the tourney. The Villian was one of four Americans in double figures with 10 points (5/6 FG), three boards and three dimes in a team leading 24 minutes.
Even with double digit points in the tournament finale, Turner still posted a team low of 4.0 ppg in the third lowest minutes per game (16.3) while leading the team with 18 assists. While one could argue the silver lining is ET didn't rack up minutes thus keeping him fresh for his real season, he's not a 10 year NBA vet and would've been playing pick up games every day in Columbus anyway. As a result, I'm forced to wonder if he wouldn't have been better off working on the main aspects of his game he intended to polish here in Columbus.
Sure, there's still plenty of time to do just that but it's still hard to overlook he lost nearly a month to shoot 200 threes a day and log extended minutes working on ball handling and decision making in scrimmage situations. Turner shot exactly one three in seven World University Games. Again, not the end of the world. I'm just sayin'...
---
Meanwhile in New Zealand, Zisis Sarikopoulos overcame his recent knee sprain to log 11 minutes in Greece's loss to Team USA in the gold medal game of the FIBA under-19 world championships. Zisis notched only two points and two boards but the real news is that he was healthy enough to play and will be 100% when he returns to Columbus leading up the OSU's exhibition games in Canada at the end of August. I have a feeling Matta's going to need some of his fouls this season against more physical B10 foes with only Lauderdale and Madsen locking down the pivot and Lighty logging heavy minutes at the four spot with Kecman being more of a face up wing.
---
Back in the states, Jared Sullinger has gotten some bad reviews at the Nike Peach Jam. CNNSI's Seth Davis didn't exactly torch Sullinger but his thoughts are certainly in stark contrast with what Reggie Rankin had to say last week at the Lebron Skills Academy. Davis offers:
"There's nothing wiry about this guy. But my reaction to Sullinger is similar to one I had with Harrison Barnes: If Sullinger is the best big man in the class, then this is not a great class. Sullinger has committed to Ohio State, and Buckeye fans need not worry about his following Greg Oden and B.J. Mullens to the NBA after one year."
The folks at nbadraft.net offered a more direct assessment and I don't like what I read:
"On the flip side, their were others who failed to match their press clippings. The much anticipated match up between Jared Sullinger and Joshua Smith never materialized. Both guys were taken out early and never got into a rhythm. Sullinger is an undersized (overweight) power player who will have trouble with anyone with length and athleticism. He uses his huge body to his advantage around the basket, but will have trouble at the next level, similar to the struggles that Samardo Samuels experienced this year at Louisville."
Trying to spin this positively, I take solace in the fact Sullinger has indicated he's already lost 25 pounds and plans to lose more in prep for Matta's offense. Plus, I've seen many more positive reviews compared to very few poor assessments of Sullinger's ability and how it projects to the college game.