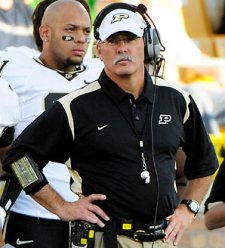 We're counting down the weeks until kickoff by profiling a different Big Ten team each week. We decided to switch up the order to reflect 11W's predicted finish for the upcoming season, which can be found here and we also reached out to fellow bloggers for their inside opinion on important matters.
This week the new regime of Purdue is up and the fellas at Boiled Sports were kind enough to answer a few questions.
With only 12 returning starters from last year's 4-8 squad, it should come as no surprise that Purdue is picked to finish near the bottom of the conference standings. However, they have 49 returning lettermen, mostly on defense and with a new coach, there is reason for optimism within the Purdue circles.
COACHING: Hope was named coach in waiting before 2008, after spending 5 years as head coach of Eastern Kentucky, where he went 35-22. Tiller obviously brought a certain style of football to the gridiron and Boiled Sports think Hope will approach things a bit differently.
Yes, we expect some changes, mainly being able to move the ball. Everyone still refers to Purdue as "basketball on grass" even though that term was last used on campus probably close to a decade ago. Danny Hope is a defensive minded guy and that's good, because the defense is the key this season. It's experienced and actually pretty good -- it had to be last year, as the Boilermakers could not move the football for good portions of the season. What will change, most likely, is that we won't just be a spread offense with a traditional drop-back passer under center (such as Curtis Painter, Kyle Orton, etc.). Joey Elliot will likely be the starter and he is kind of an unknown, but supposedly a "coach on the field" type. We think you'll see more multi-back formations and the usual assortment of sneaky tricks that Purdue's offenses have seemed to have in the bag over the years.
OFFENSE: With the spring dismissal of Justin Siller, the aforementioned Joey Elliot should win the starting job as a senior. He has barely played in his previous 3 seasons, throwing just 49 passes, but he created some buzz with his play coming out of spring practice and will have the benefit of a veteran offensive line.
Purdue also has the services of Jaycen Taylor, who is returning from a knee injury that cost him last season. In the previous 2 seasons before that, Taylor ran 1237 yards on 220 carries and scored 8 touchdowns. There isn't any proven talent behind him, but Boiled Sports tells us to look out for Ralph Bolden, a sophomore who stepped up this spring and is ready to become a horse this year and beyond.
The receivers will be lead by junior Keith Smith, a converted safety, who caught 49 balls last year for 486 yards and could have an All Big Ten season. Behind him is a wide open race, as the Boilermakers lost 5 of their top 7 receivers from last year, but JUCO transfer Aaron Valentin could be a name to remember once the conference season rolls around.
The offensive line should be the strength of this unit, as they return 4 players with starting experience, including sophomore LT Dennis Kelly and senior RT Zach Jones, who each have a chance at All Conference honors. Danny Hope was the OL coach for Purdue from '97-'01, but they have only averaged better than 4.4 YPC once since the '02 season.
DEFENSE: This unit returns 7 starters from last year and is expected to be the strength of this team. Although they lost their top tackler in Anthony Heygood, Purdue brings back 8 of their top 10 tacklers from the '08 season and will get senior linebacker Jason Werner back, who was injured last season.
The line will be lead by Mike Neal and Ryan Kerrigan, who combined for 12.5 sacks last season. They will be joined by DT Kawaan Short, a 6'4" 310 lbs redshirt freshman, whom Boiled Sports thinks will be the newcomer of the year for Purdue on defense.
The linebackers will be lead by a couple of sophomores, Chris Carlino (true) and Joe Holland (redshirt), who both saw significant time as freshmen, combining for 112 tackles. The secondary has the potential to be one of the B10's best, with senior returning starters Brandon King and David Pender at corner. Pender had 12 PBU's in '08, while King had 9 of his own, to go along with 48 stops, leading the Boilers in giving up just 183 yards passing per game. At safety, Torri Williams was granted a 6th year by the NCAA and will be joined by senior Dwight McLean, who played in all 12 games last year, registering 2 picks and 36 stops.
KEY GAME:
At Oregon, September 12th. Even though it is early in the season, a victory in Eugene would kick start Hope's career at Purdue. The Boilers open up against Toledo, go to Oregon and then play 5 of their next 6 at home. A win out west could set them up for a potential 4-1 start.
BEST-CASE: For this one, we go back to Boiled Sports.
Everyone -- and we do mean everyone -- has the Boilermakers pegged to be near the bottom of the Big Ten. We even saw an OSU site [Ed: That would be us] doing team-by-team previews and when they got to IU, they conceded them only three wins, with one coming over Purdue. And that's really all fine. We absolutely LOVE the direction of our program, new coach Danny Hope and the recruits he's bringing in. It honestly feels a lot like the beginning of the Tiller era in that nothing at all is expected of the team and so even banging out five wins will make everyone happy. It's really early to be making predictions but you did just ask for a "best case" scenario. Now, mind you, we don't necessarily think this is gonna happen, BUT, in an absolute best-case season, we'd see the offense score a reasonable number of points and the defense live up to what it's clearly capable of, ultimately resulting in a 7-5 regular season. Again, best case.
WORST-CASE: Even though they play 6 of their first 8 at home, those games include Notre Dame, Northwestern, Illinois and Ohio State. They also play 3 of their last 4 on the road, including games in Madison and Ann Arbor. The defense maybe the strength, but I think it is going to take some time for the new offense to kick in and by that time, the D may be wearing down. If Purdue loses at Oregon, then at home against ND, Zooker, and OSU, they are probably looking at another 4-8 or 5-7 season.
The Boilermakers haven't averaged less than 358 YPG on defense over the last 4 years, leading to just 25 victories over that span and it will probably take another season before the new coaching staff has their plan in place. They miss Iowa and Penn State this year, but their OOC schedule is considered one of the best in the B10, so it will be difficult to gain bowl eligibility, but Hope is here and it will be interesting to see if he can return Purdue to the top tier of the conference.