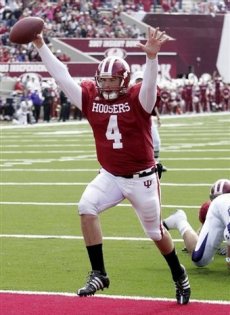 We're counting down the weeks until kickoff by profiling a different Big Ten team each week, in order of the 2008 finish. Today, the Indiana Hoosiers are up and by the looks of it, they probably will lead it off again next year.
After making their first bowl appearance in 14 years during the 2007 season, the Hoosiers returned to normalcy with a 3-9 season in 2008, including a 1-7 Big Ten record, matching the conference win total of their basketball program.
The Hoosier program has averaged less than 4 wins over the last 9 years and have suffered through 13 losing record in their last 14 seasons. They return a veteran defense, including a fierce DE duo, but their offense is green and unless the D steals a game or two, Indiana fans will have to hope Tom Crean can turn things around this winter.
COACHING: Bill Lynch is squarely on the hot seat and is probably entering his last season in Bloomington. The schedule doesn't help him out at all, with 2 OOC away games at Akron and Virginia, but if he can hover around the .500 mark all season, he may buy himself some extra time.
OFFENSE: Ben Chappell appeared in 9 games last year, completing 80 of 153 passes and will take the reigns full time this season, as Kellen Lewis was dismissed in April. Chappell will play behind a somewhat veteran offensive line, but will have to break in a new running back and a couple of wide receivers.
Redshirt freshman Darius Willis, the scout team MVP last year, is slated to start at running back, but he has to beat out 2 seniors in Bryan Payton and Demetrius McCray, who combined for almost 600 yards rushing last season. Lynch may choose to rotate all 3, looking to control the clock and win some close games with his defense.
The Hoosiers have to replace their top 2 receivers from last year, losing Andrew Means to eligibility and Ray Fisher to the defensive side. Damarlo Belcher (25 for 337) and Terrance Turner (29 for 289) are the leading returners, but Tandon Doss is a name you could hear from before the season is over. The offensive line was decimated by injuries last year, staring 7 different lineups, but they return 9 of their top 10 and should have more stability in the trenches.
DEFENSE: The aforementioned DE duo is Greg Middleton and Jammie Kirlew, who will lead a group that returns 9 starters and also brought over Ray Fisher from offense to play corner. Middleton lead the NCAA in sacks in 2007 with 16, but teams paid more attention to him in 2008 and ended the season with just 4 sacks. However, his struggles opened the door for Jammie Kirlew, who racked up 10.5 sacks in '08. If they can get some help from their inside teammates, this could develop into one of the conference's best.
The Hoosiers gave up an average of 37 points last season, but have 5 of their top 6 tacklers returning, including linebackers Matt Mayberry and Will Patterson. MLB Mayberry lead the team with 89 stops and received some praise coming out of spring ball. Patterson was second on the team with 7 TFL, ending up with 55 total tackles and will be joined on the outside by Tyler Repologie, who registered 19 tackles in the last game against Purdue.
The secondary returns all four starters, three of them seniors, if you include Fisher in that group. Chris Adkins, a redshirt sophomore had 54 tackles last year, while safeties Nick Polk and Austin Thomas combined for 93 stops and 3 picks.
KEY GAME:
At Michigan, September 26th. Indiana opens the season against E.Kentucky, Western Michigan and at Akron, 3 games in which they could win. If that happens and the Hoosiers can shock the Big House in the B10 opener, they would be 2 wins away from returning to a bowl.
BEST-CASE: If the defense can keep them in most games and the offense can control the clock with a 3-headed RB attack and smart QB play, this team could get to 6-6 and possibly a bowl game.
WORST-CASE: They continue the Hoosier football way and injuries play a factor once again. The defense has to step up and reverse the trend of teams averaging over 400 yards of total offense against them. If they don't, the Hoosiers are probably looking at another 3-9 season, pulling out wins in their first two and then against Purdue at home in the season finale.
The Hoosiers return to the Buckeyes schedule this year and the BTN decided to put it under the lights in Bloomington, for reasons unknown. Ohio State beat Indiana by a combined 115-20 in their last three meetings and OSU has won 14 straight in the series.
I see the Hoosiers going 4-8 this year, winning 3 of their 4 OOC games and winning one conference game. What do you think? Before you answer, be sure to visit the fine Indiana blog, The Crimson Quarry, who has fought through the pain in Bloomington these past few years to cover the Hoosiers with great pride.