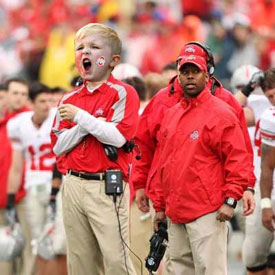 Once again, the Ohio State Athletic Department is auctioning off what they're calling the "ultimate spring football game experience", which entails hanging out on the sideline of the Spring Game with a headset on and other perks.
As the visiting team honorary assistant coach you will join the home team on the field for their pre-game festivities in Ohio Stadium. Prior to kick-off you will head over to the visiting team sidelines to watch the game. Throughout the game you will have the option to put on a headset and listen in as the coaches on the field communicate with the coaches in the press box. You will join the visiting team in the locker room during halftime and listen in on all of the halftime adjustments. You will return to the sidelines for 2nd half action. Following the final whistle you will join the visiting team in their locker room for post game comments from the coaching staff which will mark the conclusion of this Ultimate Spring Football Game Experience.
The auction runs through the 21st and though the action is trailing the jack raised last season (recession much?), the current high bid of $650 is a tad steep for not even getting the chance to call a flea-flicker or two.
At any rate, they've pretty much got all of the Buckeye fans we know screened with the small print:
Winning bidder must be an Ohio State fan and supporter and must dress and act accordingly and in a professional and courteous manner while participating in this experience.
Ohio State fan and supporter? Check. Dress accordingly? Check. Promise that you won't complain about blocking or play selection? Uhh...
---
Ken Gordon captured a dandy of a quote from secondary coach Taver Johnson after Wednesday's practice. Speaking on the rare luxury of having three skilled cover corners last season, Johnson remarked on how aggressive the unit will be this year:
"I think if we can get back to that (having three cover corners), I think you'll see a defense that will stay aggressive," he said. "But I'll tell you what -- having the front that we have right now, and even with some of our young linebackers, we have some guys up front that can get it done. So you can do some things to hide some corners when you have a front like that that can get after people."
We're all trying to temper enthusiasm but it's hard not to get excited about Gibson, Wilson, Williams, Heyward and crew right about now. It's been too long since the Buckeyes have had a dominant defensive front and defense wins...