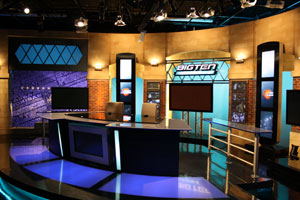 On Thursday August 30th, 2007 at 8:00pm, after much derision and mockery from parts of the country not calling itself the Midwest, the Big Ten Network released its first bits -- in all their HD glory -- to a few million people lucky enough to be customers of a cable service you've probably never heard of.
48 hours later, the network hit gold.
While Appalachian State's upset of Michigan in the Big House wasn't exactly good news for the conference that owned 51% of the network, highlights of the game would be shown all weekend and with each replay, the nascent venture's bug was blasted into television sets across the country. In the span of two days, what was somewhat of a running joke had become the network to broadcast one of the biggest upsets in sports history.
A few years and a couple of sometimes contentious carrier battles later the Big Ten Network is now carried to 35 million viewers in the network's footprint and it's expanding. Comcast and Time Warner have begun adding the channel to their sports tier packages outside of the footprint and deals with Canadian cable and satellite companies have been inked.
I recently had the opportunity to spend some time at BTN headquarters in Chicago and coming into the experience with zero broadcast exposure, it was an eye-opener. I would be observing during the night of the Purdue/UConn Sweet 16 game and would witness everything from staffers splitting time between cheering the Boilers on and putting in their work for that evening's telecast, to the makeup room where Dave Revsine gets his layer of handsome applied.
My night started with the "ingest" group, also responsible for operations. Working in the IT industry by day, I see my fair share of wicked hardware and network configurations, but what I saw at the old Montgomery Ward building on Chicago Ave was geek porn. Avid hardware and software, 128 terabytes of Unity ISIS storage, 400,000 archived clips and four 10m satellite dishes all work in unison to ensure video needs, most of it in HD, are being met.
Next up, I went to the "bullpen" which is where producers and PAs, each with a flatscreen tuned into the game sitting next to their editing workstation, created a near sports bar atmosphere. Not all employees are Big Ten grads and some would readily admit to rooting for their alma maters, but for that night at least, they were all Purdue fans. In between cheering, the group was busy putting together the rundown for that evening's episode of Big Ten tonight. That and explaining to me the importance of not screwing up facts or graphics as there's sure to be some blogger out there somewhere calling them on it.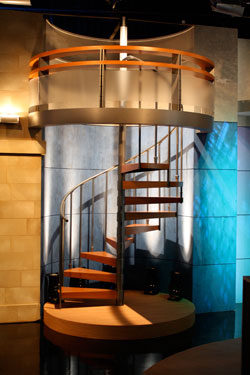 I moved on to the art department next and saw one lonely artist putting together the graphic that would air that night highlighting the amount of traveling the Boilermakers would put in to get to the Sweet 16. I also sat in while the montage for Big Ten Tonight was put together. Something you see, but don't sometimes put together, especially come NCAA tournament time, is that because CBS only contractually allows three minutes of highlight footage to be aired by partners, montage footage will often consist of older highlights from games earlier in the season, thus saving the juicy bits for the recap.
My next stop was the control room, which resembled the ultimate man cave with it's wall of monitors and computers tied into various stats services. Watching the event with this group was what I imagine Mystery Science Theater 3000 would look like if they came back and switched the format to sports.
I would spend the rest of the night shuffling between the various production areas of the facility. The aforementioned makeup room, the green screen room (Tressel in the Matrix, anyone), the studio (turn your cell phone off or risk castration) and of course the green room. At one point in the night, I was hanging in the green room with Revsine, Rick Pizzo, my "handler", Mike Vest and of course Jimmy Jackson. Flipping the volume back and forth between the two games that were on was very much like hanging with your friends -- only they knew a whole hell of a lot more about hoops than your friends do. The thing that supposedly separates the press from bloggers is the bias -- the whole "no cheering in the pressbox" bit and all, and damn if I didn't have the hardest time suppressing my inner-fanboy in the green room. I'm watching basketball with Jimmy Jackson. I'M WATCHING BASKETBALL WITH JIMMY JACKSON!
I stuck around to watch a live taping of Big Ten Tonight before heading home after a long night, but not before getting some facts and questions answered. Like when did they plan to implement web streaming for folks outside of the footprint? Due to contractual obligations they can't stream within the United States, but hope to have international streaming in place for the start of football season. What fanbase is most vocal? Ohio State. What sport has the most vocal fans? Wrestling. What was it like early on when many of the staffers were unable to watch what they helped create due to condo or apartment deals with carriers that didn't carry the network? It sucked. What sport are you dying to show more of? College hockey, but not having a Big Ten conference makes it difficult to show more than a dozen or so games each year. What do the schools get out of the arrangement? Fantastic publicity and the 60 hours to show whatever they want each year -- Northwestern shows concerts, for instance.
Proving that my objectivity can be paid for with a free dinner and six hours of behind-the-scenes access, I rushed home to tell my sleeping wife how awesome of a night it had been. But it had been. I know some of you are put off by Delaney going to bat for the conference in public and many more of you don't get the whole cheering for the conference at all costs part, but everyone at the Big Ten Network was a Big Ten fan and for one night, it was a lot of fun to be around fellow fans in a workplace where EVERYONE knew sports. Even if it meant cheering on Purdue.