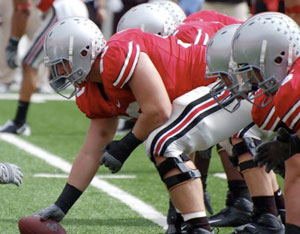 April 25th really can't get here soon enough (and as a kicker, the 100% accurate, never wrong 10-day forecast for the Spring Game is calling for a high of 73°). Spring is a time for plugging new pieces into different parts and seeing what you have to work with heading into the summer, and does this Buckeye squad ever have a shiny array of new parts to play with.
Some of those shiny new parts are starting to emerge as potential starters as the offensive line has now featured the same group of starters for the last three sessions: Adam, Boren, Brewster, Browning and Cordle. Boren has been running with the ones since the start of spring camp and has alternated between impressing and injuring teammates. It's kind of weird to think that a former Wolverine is the one bringing toughness to the unit, but hey, we'll take it. Mike Adams has finally appeared to nudge ahead of Andrew Miller at the left tackle spot in what you have to imagine was the staff's way of trying to light a fire under the behemoth. Brewster is no surprise at center, but it's at least a bit reassuring to see him back where he played all of last season instead of at the other line positions where he lined up earlier in camp. Cordle at right tackle is interesting and moving Browning inside to guard probably gives him the best shot of playing well, but Shuggarts is still injured and Marcus Hall could make a push later, so the group is by no means set. Still, I can get with this line as it stands now.
Flash Thomas has worked his way into the ones at receiver and Tressel went out of his way at Tuesday's teleconference to point out the strides he has made in the first seven practices of spring. If the Buckeyes can develop him to the point where he's contributing significant minutes this fall, he'll join a paradoxically proven, but green group that includes Small, Washington and Sanzenbacher (who's currently injured).
Of course the other big news to come out of the teleconference, and the first question asked, no less, was the status of Pryor's sore throwing arm. It's what most of us thought it was -- just tender from throwing a shit-ton off balls. Which is a good thing. The more spirals #2 zips this spring and summer, the better off all of our stomachs will be come the fall.
---
Hate Michigan Month
November is the month identified with hating our friends from the North, but with the Blue Jackets taking on the Red Wings and the Cavs facing the Pistons in the opening rounds of each league's playoffs, I certainly won't have any trouble ratcheting-up my distaste for all things Mitten State. The Wings should roll the Jackets (though if Mason gets hot...) while King James and the Cavs will likely return the favor on the hardwood. I do have to admit to being surprised to hear that five former Buckeyes will be skating in the NHL playoffs, however.
---
How Not to Use Twitter as a College Football Coach
Late last night, Gopher coach Tim Brewster (@Play4Brew) dropped a curious one on all of his tweeps:
How would you like to wake up in the morning and look in the mirror....... if your Fat Pat??
Huh? We immediately rebroadcasted that nugget hoping to give his philosophical waxing a wider audience, but soon after, Brewster (or the SID) deleted the tweet. Probably out of fear of losing recruits from the Houston area that are down with lousy rhymes.