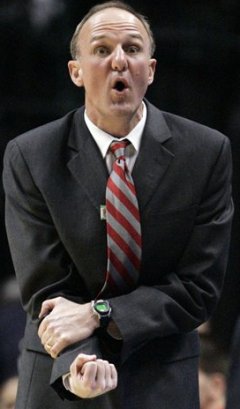 Even before today's 61-57 victory over Wisky it appeared the Buckeyes were on the inside looking out.
Afterward, there's no doubt the Buckeyes are headed back to March Madness after a one year layoff.
Evan Turner led the way once again with 19 points and Ohio State used a 14-3 run to secure a date with Michigan State tomorrow at 1:40pm.
Regardless of what happens versus MSU, the Buckeyes got what they'd been looking for - balanced contribution - as virtually everyone stepped at one point or another.
Running through the game with Corey over some barley soda's, there was much to take away including:
Dallas Lauderdale emerged from the milk carton to add eight points, five rebounds and four blocks.
Matta switching to the press with OSU down 54-47 with 6:03 to play helping jump start the decisive 14-3 Ike.
Jon Diebler coming through with two clutch triples including a deep dagger putting OSU in front 55-54 with 2:25 remaining.
P.J. Hill getting to the line 11 times (hitting 7) while fellow PG Jeremie Simmons added 10 points in 16 minutes.
Wil Buford hit a couple big buckets early in the second half as OSU struggled to score.
The much maligned zone also did its job holding Wisconsin to 36% from the floor, 31% from deep, while holding the Badgers to zero field goals over the final 6:03.
Logic says the Spartans will be ready to play tomorrow but it better be a genuine desire to play or else the Buckeyes might steal one. You gotta like Thad's post-season record, at the very least.
We're keeping it brief tonight since Matta's crew takes the court less than 16 hours. Stay tuned...