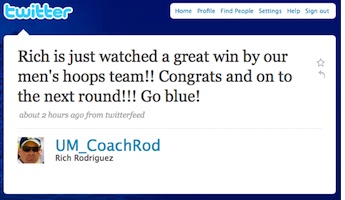 So, we're still smarting from that Friday night heartbreak. Wondering how the rebound numbers could be true and why Ronald Moore wasn't bear-hugged as soon as he caught the ball with time ticking away in overtime.
And then the Buckeye wrestling team fell just short1 in its bid to knock off Iowa for the national championship Saturday night, constituting yet another runner-up finish for an athletic department that seems to be collecting way too many of those over the course of the past three years.
So what do you do when life hands you athletic lemons? You turn to your neighbor up north and their hillbilly coach. The image above represents a post to Twitter (or, as the hipsters call it, a Tweet) submitted by Rodriguez after the Wolverines basketball team had just finished knocking off 7th-seeded Clemson in the opening round of the NCAA tournament.
"Rich is just watched a great win..."
Spoken just like Bo or Lloyd would have.
Now, I realize that these are 140 characters or less and often sent via mobile devices, but if Pete Carroll can practice proper grammar, then surely a Michigan man must be able to do the same, right?
1 Tom Ryan has the program going in the right direction and if he pulls a Tressel and locks down the talent in the state of Ohio, it's over.