With only a few position groups (defensive backs and linebackers, namely) still to perform at the NFL combine, data is flowing in on the the four Buckeyes that have already worked out and so far, it's a mixed bag.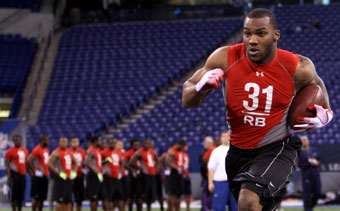 Robiskie has done the most to help his stock, turning in top 10 performances in the vertical jump, 3-cone drill and 20-yard shuttle. He's earned praise for his precision routes and fundamentals and the 4.49 he popped on his second 40 attempt likely earned him some additional jack.
Beanie, for his part, matched Moreno in the bench press (25 reps), slightly edged him in the 40 (4.59 -- though to be fair, Moreno did quite well on the agility drills) and topped all running backs in the broad jump. So, that explains this. And this.
Still, durability is on the minds of many GMs when it comes to Wells. Take this from his analysis at NFL.com:
Negatives: Primary concern -- and the only one that will keep him from being a top 10 pick -- is Wells' struggles with durability. Fought nagging injuries throughout much of his career at Ohio State and some have questioned whether he knows the difference between pain and injury. Sat out three full games and parts of several others (including the 2009 Fiesta Bowl -- his final game in a Buckeye uniform) with foot, hamstring and head (concussion) injuries.
Ouch.
It hurts so much to read that because it's true. I cringed a bit when Chris pointed this out after the Illinois game because it was the giant elephant in the room when discussing this team for the past few seasons. When he was healthy and chugging, there was nobody like him. Unfortunately, we only got to see that about 70% of the time. It does kind of make you wonder about things like whether or not you'd rather have a guy like Pittman, who was nowhere near as talented (though still a great player in his own right), but was on the field every Saturday or a back like Beanie who gave you devastating-awesomeness when he wasn't hobbling to the sideline. I love the guy -- his name will go to my first-born -- but what are the odds he plays a 16-game season anytime soon?
Getting back to the Combine, Boone seemed to get through the interview process by doing what he had to: manning-up and being candid. He finished fourth at the bench (33 reps) amongst linemen, which will certainly help, but as you would imagine, didn't register on any of the speed or agility drills. His negatives:
Negatives: May need to play right tackle in the pros, as he is more of a mauler than an athlete. ... Lumbers in space, and does not play through the whistle. ... Needs more consistency using his punch to keep pass rushers off balance. ... Does not move his feet or hands quickly enough to handle explosive speed on the edge. ... Also loses his balance when sustaining because he leans too far forward and his hands are not inside the body. ... Plays too upright in pass protection. ... Lacks great flexibility to adjust to oncoming blitzers.
Finally, Hartline did extremely well in the agility drills, including the top time amongst receivers in the 60-yard shuttle, which leads me to believe there's a chance he gets drafted after all. Though we've been brutal on him for talking a big game and failing to produce, it had to have been tough breaking in a new (running first) quarterback and we wish him the best.
There. I've said something nice about Brian Hartline. Can you?