While the last few years have brought some new rules to college football, coaches are considering some real game altering changes for the 2009. Here's a look at what will be coming up for review to college football coaches across the nation when The NCAA football rules committee meets next.
Taunting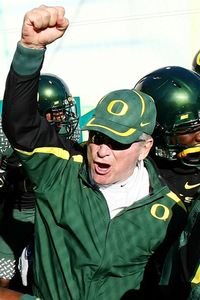 The rule that sparked this article would call for taunting to be considered a live ball foul, instead of a dead ball foul. This means if a player was flagged for taunting on his way into the end zone or when he gets in, the points will be taken off the scoreboard and the offending team will be penalized 15 yards from the spot of the foul. The current rule leaves the score as is and tacks on 15 yards to the PAT. Committee chairman and University of Oregon coach, Mike Bellotti, seems to think this would benefit the college game, but The Vest disagrees. When asked about the potential for the new rule, JT answered:
"I believe the current rule is satisfactory.It is our job as coaches to make sure our guys perform appropriately, not the officials".
Very Tressel-esque answer to say the least, but I assume most coaches will give similar responses. Bellotti says the rule may take a couple of years to perfect, in order to get all conferences on the same page, but this rule could be tough to pass without the support of big time coaches like Tressel.
I think instituting this rule would be absolutely ridiculous. Games could be decided on calls like these and then the referees judgments of what is or is not taunting would come into question. If the Buckeyes MNC dreams were shattered because Terrelle Pryor was talking a little smack on his way into the endzone in Ann Arbor next year, we would be going bonkers. The penalty for such rules like taunting and excessive celebration as is seem to be good enough, and I don't think the coaches will change this rule any time soon.
Punter Safety
Despite what the header may suggest, the next rule to be considered for this year, regards a lack of safety for the punter. This new rule, if voted in, would state that the punter can be hit if he leaves the kicking zone before punting. Defenses would still not be able to hit the punter if he has already kicked the ball, but this new rule gives attempting blockers a little more leeway in terms of how aggressive they are able to be. Currently many punters roll out to either side before they kick the ball, as OSU witnessed in Glendale, and this proposed rule would allow those players to be hit.
I favor this rule if it is passed for one sole reason: I hate rugby style punters. If you watch these guys play against your team, you sit there the entire game worrying that there is going to be a fake punt every time your team forces its opponents to boot. By rolling out, the punter has the option to kick the ball, run it, or pass it, enabling very creative fake punt options. It is only right that if the opposing team is able to fake you out the whole game, that you are now allowed to go after them as if they were running or passing the ball. Let's hope this rule gets in and Brian Rolle gets to put a licking on some punter that tries to sneak one on the Bucks.
Visiting Jerseys
The final proposed rule change may have been inspired by the USC-UCLA game during the last week of the season. In that game, Pete Carroll (and later Rick Neuheisel) gave up a time out so that the visiting Trojans could wear their red jerseys against rival UCLA in their blue jerseys. It used to be a tradition when the teams shared the Coliseum that they would both wear colors, and Pete and Rick decided that bringing back this ritual was worth a time out in the first half. So after my little history story, the new proposed rule is that visiting teams could wear a jersey color other than white pending conference approval and with the stipulation that it must be distinctly different from the home team's color. This rule does not seem to be a big deal and could also be in effect this year.
While this rule will go down as the USC Rule, which definitely bothers me, I think it is a good one. How cool would it be to see Michigan and OSU go at it in Scarlet and Blue or Florida and Georgia to go at it in Blue and Black? Although I do enjoy going into Ann Arbor and stomping on them in the whites, it would be kind of cool to see the colors flying come the last week in November. I don't see this rule as a big deal, as long as the colors don't clash and they won't considering it must get conference approval.
Which rules do you guys think should pass the vote and which do you think should be left out? Do you have a problem with Pete Carroll solely dictating the proposal of a rule? Would you want to see the Wolverines and the Buckeyes square off in home jerseys?