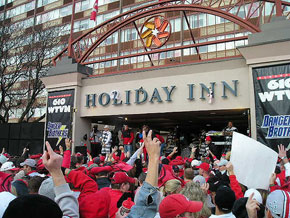 The rumors had been swirling for a while now, but yesterday it was made (near) official: Campus Partners is buying the Holiday Inn on Lane and is closing the hotel at the end of March. Ohio State plans to turn convert the property into a 480-bed dorm and it may even be ready to go this fall.
So, that's interesting, and the university can certainly use the housing, but what about the fate of the massive party that erupts in the parking lot of the hotel on a half dozen Saturdays every year? How will the fine people of Columbus see the Danger Brothers if Hineygate ceases to exist?
The event, billed as the world's largest tailgating party, has been a gameday fixture for over 25 years, but now faces an uncertain future. Though a spokesman for Campus Partners said they open to the possibility of keeping the event, I find it hard to believe it will be the same, what with a dorm sitting right in the middle of the debauchery. Either that, or I'm wrong and the new dorm will be the dream destination for the hardiest of student fans.
---
Not to keep beating a dead and ultimately unimportant horse, but we've received word from two super-reliable sources that Pryor was not injured for the Fiesta Bowl loss to Texas. He had some minor aches and such, but nothing on the level of an injured shoulder. Not sure what's up with the Bucknuts Radio Hour and Biddle saying he had a bum shoulder for the game, but just wanted to throw this update out there.
---
Teddy Greenstein of the Tribune, sat down with recently retired Big Ten supervisor of officials Dave Perry and he had a couple of interesting things to say about your favorite team. On the pass interference call in the Fiesta Bowl:
I don't think there was pass interference or, certainly, (there was) very thin pass interference. Unfortunately, that's what they announced.
On the Dufrene's fumble in the Shoe two years ago:
Clearly and obviously, the ball came out before the Illinois kid was down. It was recovered by Ohio State in the end zone, so it would have been a touchback.

I don't want to bad-mouth the guy, but our man upstairs should have reviewed it. He did not. He is no longer with us.
Better late than never on the fumble call, but why hate on 2002? (via Bucky's 5th Quarter)