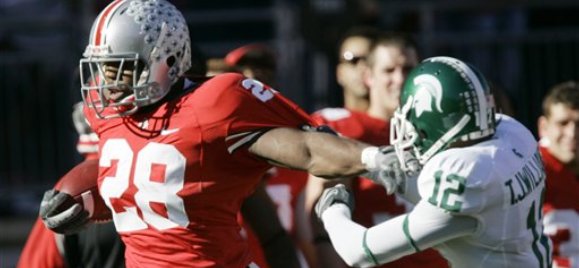 Beanie Wells announced yesterday he hasn't yet decided if he'll turn pro after the Fiesta Bowl.
You buy it? Me neither.
And that's not criticism - he should turn pro. Elite athletes such as Wells come to schools like Ohio State for ultimately the same reason as Joe Student, to prepare for their future by putting themselves in position to start a career.
In that sense, there's no way possible Wells can improve his stock enough by staying another year to make it worthwhile so leaving is really the best option.
Let's face it, NFL running backs don't have a long shelf life as it is and Beanie's already racked up a long injury history causing some, including former Buckeyes like Spielman and Herbie to question his toughness. Even with injuries costing him three full games and portions of others, Wells still managed to run for 1,091 yards at a 5.7 yards per carry clip.
I know some would argue he could get his degree, enjoy the college experience, make a run at the Heisman if healthy and still possibly improve his draft stock leading to a larger stack of cash but it just doesn't make sense for Beanie to go the Jenkins, Robo or Laurinaitis route.
Though those three probably won't see their stock sway dramatically either way (maybe Robo) making the risk seems less, I think even the staunchest Beanie supporter would say Wells has a lot more at stake if he comes back.
Of course, I hope he stays just like the rest of you. It would be fan-freaking-tastic for him to say he wants to play another year with Pryor and Tressel in hopes of making a run at the title even if he's caused me more heartburn than any other hyper-stud ever to grace Ohio Stadium.
No matter what he decides, I just hope Beanie approaches Monday night as if it's definitely his last wearing the Scarlet and Gray. It's likely nothing less than his best performance of the season will be needed to upset the Longhorns and he let it be known what he wanted his legacy to be when he first arrived on campus and reaffirmed it yesterday:
"I personally feel like I haven't done enough at Ohio State, the things I wanted to accomplish here, to move on to the next level. I don't want to say I'm leaning toward staying or I'm leaning toward going. All I'm saying is I do want to be the best Buckeye to ever come through here. I definitely feel like I haven't accomplished that yet."
His ultimate goal isn't realistic no matter what he decides but as a great player capable of great things in big games, he would certainly boost himself up the Legendary Buckeye ladder with a game changing performance in final night as a Buckeye.
What do you think? Assuming he's at least "Beanie-healthy" by the date he must declare what do you think the chances are he will return?