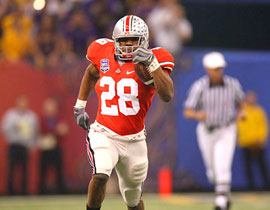 The Buckeyes participated in a two hour session in full pads Tuesday and Tressel spoke briefly with the press prior to hitting the field. A quick rundown of the interesting bits:
Five players still hadn't arrived to the Phoenix area by the start of practice. The five, Sanzenbacher, Posey, Dominicone and Gant, have been the victim of flight delays and other travel snafus. All were expected to arrive Tuesday and Saine, Sanzenbacher and Domicone made it in time for the tail-end of practice.
The team was treating Tuesday's session like a game-week Sunday and will be back in full pads on Wednesday.
Bauserman is playing the role of Colt McCoy on the scout team. It's hard to simulate a player as gifted as McCoy is, and Tressel said as much, but there could be worse choices and maybe Joe is turning some heads slinging the ball around.
Cordle and Beanie were mentioned as players missing practice time in Columbus due to injuries, but he expects everyone to be ready for the game. We heard that Beanie spent most of the Columbus sessions in sweats (they call this preventative maintenance, I think) and also heard about Homan being slowed a bit before heading West, but the team should be healthy.
Expounding on his earlier text message denying interest in the Browns job, the Vest probably put any future NFL rumors to bed by saying he wasn't an NFL guy.
Tressel commented a bit on Laurinaitis and the senator-speak was there in abundance, but he seems to be relaxed heading into the game. Which meshes well with the story of him rocking a Vince Young Texas jersey at practice one day at the WHAC.
Fierce Urgencies
Doug Lesmerises brings word of the new shirts being worn by the team: the front reads "BEAT TEXAS" and the back has "F U N" on it, referencing the King quote Obama put into play again this year. The motto didn't exactly work out so well in Los Angeles, but it's still a fantastic principle to live by. There was also a Nathan Williams sighting, but no word on whether or not he was still running with the threes. Lesmerises also snapped some great photos if you're into seeing your favorite team suited up looking all bad and all in Arizona.
Do Work
Unlike the Longhorns, the Buckeyes will not be taking in Steve Nash or the Insight Bowl in their run-up to kickoff. In fact, the team's itinerary is pretty sparse aside from two team dinners. If the dinners consist of bones and boulders, I think that spread has to close a little.
Bevo Sighting
Texas had its first practice in Arizona on Tuesday as well and opted to go light, working out in shorts. Mack Brown is also letting his seniors and junior McCoy decide the team's nightly curfew, so you'll be praised appropriately for sending strippers to the Scottsdale Plaza Resort (7200 N Scottsdale Rd, Scottsdale, AZ) nightly until kickoff.
---
Elsewhere: Brandon Smith is pulling for Penn State and Laurinaitis has blown on Colt McCoy's neck.