The Buckeyes, having ended their season at least a full two weeks before the rest of the world, find themselves in a good position to play in the Fiesta Bowl, and probably against an opponent from the Big 12. Let's take a look back at the last time the Buckeyes played a Big 12 opponent in the desert – the 2004 Fiesta Bowl, against Kansas State.
The Wildcats
Kansas State University is located in Manhattan, Kansas, which is only slightly more populated and exciting than any given Siberian town on a Tuesday night. Bill Snyder, who earned his chops as an assistant under Hayden Fry at Iowa, had built the lowly Wildcat program into a Big 12 contender, mainly through the use of juco transfers and soft scheduling.
The 2003 Wildcats started the season ranked #7, then suffered a midseason swoon, losing three straight games to Marshall, #13 Texas and Oklahoma State. Snyder's team righted the ship with seven straight wins, though, including a shocking Big 12 Championship Game upset of then top-ranked Oklahoma. The Wildcats ran up 549 points in the course of the season – the third-highest total points in school history.
Kansas State's option attack featured quarterback Ell Roberson, who accounted for 3520 rushing and passing yards, and running back Darren Sproles, who rushed for 1986 more on the ground. The Wildcats played just enough defense to keep opponents honest – Bret Bielema served as Snyder's defensive coordinator.
The Big 12 champions entered the Fiesta Bowl ranked eighth and favored by seven points.
The Buckeyes
See if any of this sounds familiar: a senior-laden, top-ten Buckeyes squad, geared up for a national title run, sent to the Fiesta Bowl as a consolation prize against a Big 12 opponent. Eerie, huh?
The comparisons end there, though. The 2003 Buckeyes were the defending national champions, and stayed in the top ten throughout the year, despite road losses to Wisconsin and Michigan. (Once upon a time, The Game was a rivalry, and in 2003, both Michigan and Ohio State were top-5 teams.)
Tressel's offense was led by senior quarterback Craig Krenzel and featured a wealth of talent at receiver in future first-round draft picks Michael Jenkins and Santonio Holmes (Drew Carter was there, too, and seems to be doing alright). The running game was something of an unsettled affair following the departure of Maurice Clarett, and relied on Lydell Ross and Maurice Hall.
But it was on defense and special teams where the Buckeyes really shined. The roster had future NFL players all over it, including Tim Anderson, Bobby Carpenter, A.J. Hawk, Chris Gamble, Donte Whitner, Robert Reynolds, Quinn Pitcock, Will Smith, Simon Fraser, Darrion Scott, Ashton Youboty and Dustin Fox – possibly the best collection of NFL-caliber talent in Ohio State history. Kicking duties were handled by Mike Nugent – another future NFL draft selection – and punter B.J. Sander.
Ohio State, denied a Big Ten title by the loss to Michigan, came to Tempe ranked #7 in the country and in an angry mood.
Show Time
Kansas State had problems before the game so much as kicked off. Ell Roberson was accused of sexual assault by a 22-year-old Kansas State alumna who happened to be "visiting" Roberson at the team's hotel in the early morning hours before the game (no charges were filed). Snyder elected to play Roberson, but didn't make the decision until minutes before kickoff, and the uncertainty surrounding his situation showed in Roberson's first-half play.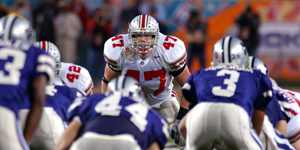 Ohio State started out the gate quickly. Special teamer John Hollins returned a blocked K-State punt for a touchdown, and Craig Krenzel overcame two first-quarter interceptions with a 6-yard scoring strike to Santonio Holmes on a crossing pattern, giving the Buckeyes a 14-0 lead.
Kansas State started their next possession pinned at their own 5-yard line. The Buckeyes rushed seven, hurried Roberson into throwing an interception to Chris Gamble, and Krenzel hit Michael Jenkins for a 17-yard touchdown on the very next play (you can see that three-play series here). Ohio State had rolled out to a 21-0 lead – the first 21-0 lead in Buckeyes bowl history, and a tie for the team record for largest lead in a bowl game.
The Wildcats finally scored with 3:01 left in the second quarter on a 6-yard option pitch to Sproles. The half ended with Ohio State outgaining the Wildcats 168-96 in yardage, and with the scent of a rout in the air.
Back and Forth
Ohio State could do nothing with its initial possession of the second half, but Kansas State undertook a 70-yard drive that ended with a 14-yard run around the left by Roberson off an option fake. The Wildcats had closed the OSU lead to seven with 8:59 left in the third quarter.
Krenzel and the Ohio State offense answered the challenge. The Buckeyes marched 74 yards, including a 37-yard pass to Michael Jenkins that moved him atop the all-time Ohio State receiving yards list. Krenzel hit Jenkins again for an 8-yard score, and Ohio State went back up by fourteen, 28-14. Kansas State went three-and-out on its next possession, and the Buckeyes went to the ground game, pounding the ball with Ross and Hall. A play-action pass, set up perfectly by Ohio State's relentless pounding on the ground, resulted in a 31-yard score from Krenzel to Holmes as the third quarter expired. The Buckeyes now led 35-14, and looked poised to drain the clock in the fourth quarter.
Crunch Time
Kansas State wasn't quite finished yet. Nugent's kickoff was returned inside OSU territory, and the Wildcats scored on Ayo Saba's 3-yard touchdown carry. Another Wildcat possession ended with an errant field goal attempt that clanked off the upright, but the ensuing Ohio State three-and-out led to a third second-half Wildcat touchdown. Ell Roberson took to the air, passing for 73 yards before scoring on a 1-yard keeper at the goal line; the score was now 35-28 with 2:47 left to play.
Short on time, Snyder called for the obvious: an onside kick, which the Wildcats recovered, but an offside penalty forced a retry that was snuffed out by Bobby Carpenter. Ohio State played things close to The Vest, and drained a little time off the clock before a Sander punt pinned Kansas State at their own 10-yard line with 1:12 left in the game. Roberson connected on two passes for 57 yards, but ran out of clock in Ohio State territory. A last-second Hail Mary was batted down by Ohio State safety Nate Salley, and the Buckeyes had their second straight Fiesta Bowl win.
It was a remarkably even game. Ohio State accrued 9 penalties for 63 yards; Kansas State picked up 8 for 51. Ohio State kept the ball for 31:28, Kansas State was just under three minutes behind. The Wildcats amassed 378 yards of total offense, the Buckeyes, 337. Roberson set a record for pass attempts against the Buckeyes with 52, and both Jenkins and Holmes tied the Ohio State team record for touchdown receptions in a bowl game with two apiece; Craig Krenzel set a team record for touchdown passes in a bowl game (4).
Aftermath
Craig Krenzel took Fiesta Bowl Offensive MVP honors for the second straight year, and A.J. Hawk claimed the Defensive MVP award. Ohio State was now 2-0 in BCS games (both Fiesta Bowl wins), and left Tempe hoping that every BCS game was played in Arizona.
The loss to Ohio State proved to be something of a swan song for the Wildcats program. Bill Snyder left Kansas State the following season, but has since returned to head coaching duties following the firing of Ron Prince.
This year, it pays to be a coaching retread or a thirty-something failed NFL coach with only limited college experience – hot wife, though.