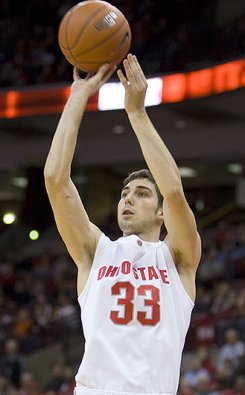 Everyone following Buckeye basketball had one major question coming into today's tilt with Iowa:
Would Ohio State surrender after the tumultuous past few days that saw the Buckeyes get slaughtered at home against WVU followed by Anthony Crater's abrupt decision to quit the squad or would they come out fighting?
Question answered.
And even more beautiful is the fact the victory was keyed by guys who have been either inconsistent or non-existent in the form of Jon Diebler and P.J Hill.
Diebler was obviously the story as he buried 7/10 triples on his way to career high 27 points, playing all 40 minutes, as Ohio State outlasted Iowa 68-65 in the Schott to kick off the conference slate.
Nineteen of Diebler's points came after halftime as the Buckeyes weathered nine lead changes before taking the lead for good on two free throws by Evan Turner giving OSU a 66-65 lead with 3:17 to play.
The defense took over from there holding the Hawkeyes scoreless for the last 3+ minutes forcing two turnovers and allowing just two field goal attempts.
To my pleasant surprise, P.J. Hill played a large part in the victory with an inspired 12 minute effort featuring a nasty blocked shot, four assists and just one turnover. It's no secret I'm not sold on having him on the floor but there's no denying he provided a crucial spark today and earned himself some more minutes to prove if he can consistently give this team a lift in reserve minutes. Hats off to Hill for doing what Crater should've been doing - busting his ass when he got his chance to contribute.
Besides the strong effort from Diebler and Hill, freshman Wil Buford also showed up tying his career high with 16 points (6/11 FG) to go along with five boards. His 14 first half points were huge as the Buckeyes struggled to defend the three allowing Iowa to shoot 8/16 from downtown resulting in a 36-28 halftime lead for the good guys.
The lapses in identifying shooters (14/28 threes) was especially disappointing because Matta shelved the 2-2-1 press which should have allowed the Buckeyes to more effectively set up and defend the three knowing all along that was the key to stopping the Hawkeyes.
OSU actually led 30-15 before Iowa used an 11-0 run featuring three triples to close to 30-26 moments before Diebler ended the half with a three of his own at the buzzer.
Once again, however, OSU started the second half with zero intensity leading to a 10-2 Iowa run and a 38-38 tie. Enter Diebler. The streak shooter caught fire scoring 15 of the next 19 Buckeye points on 5/5 shooting including four from way downtown, the last giving OSU a 57-55 lead with 7:48 to play.
The run was vintage streak Diebler as ran off screens before confidently stepping into his shot. Awesome display of offense at a crucial time in the game considering the Hawkeyes refused to back down dropping in 6/9 shots as both teams struggled to defend.
The output from Diebs and Buford helped offset another so-so performance from Evan Turner. He scored 11 points but missed 8 of 12 shots and struggled from the line as well, going 3/6 though he did add five rebounds. I'm not sure if this is new or not but he was clearly wearing some type of flak jacket though I didn't notice him favoring his ribs or back at any point during the game. Still, I have to assume he might be a little nicked up and will look to verify that possibility.
Besides the horrendous perimeter defense, the next most aggravating item from today's game was the continued struggles of the post guys. I'll be the first to say the wings either refuse to look inside or else they look too late but Lauderdale and Mullens don't do themselves any favors. Both are weak at shielding their defender when receiving entry passes and even against a smallish Iowa squad, they struggled to hold position.
Mullens was particularly putrid recording four points, two turnovers and zero rebounds in 15 minutes while Lauderdale was better, if not impressive, with four points, four boards and one block in 26 minutes. With bangers like Minnesota and especially Sparty upcoming, this team needs more rebounding from both of those guys.
Bottom line, however, is OSU needed this game desperately and they got it.