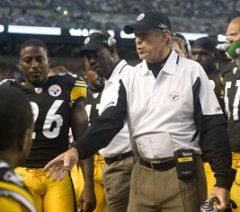 Unfortunately, not having the current Buckeyes playing on Saturday must have effected the performance of the Sunday Bucks, as no one felt the need to step up and capture this prestigious award.
While this week's stats may not be the best, it doesn't mean that someone didn't deserve the award and the winner is guaranteed to make a few of our readers sport half chubs at their cubicle.
Special mention once again goes out to Nate Clements, who helped lead Mike Singletary and the 49ers to a 10-3 road victory in Buffalo. Nate Dawg had 6 solo tackles and helped hold the Bills to 205 yards passing, as San Fran became the first west coast team to win on the east side this season.
Chris Gamble celebrated his contract extension with 6 tackles in Carolina's 35-31 comeback victory at Green Bay, while Na'il Diggs chipped in with 3 tackles and A.J. Hawk lead the Packers with 9 stops. The Panthers kept pace with Tampa atop the division at 9-3, as the teams will battle each other this coming Monday night. Joey Galloway vs. Chris Gamble anyone?
Ted Ginn had his fourth straight game with 50+ yards, but also had his fifth fumble of the season in Miami's 16-12 win over the Rams. In the same game, Antonio Pittman took a back seat to Stephen Jackson, gaining only 25 yards on 6 carries. Gonzo and Santonio only caught 2 passes apiece in their teams' victories, but one of Holmes's catches went for a 19 yard TD. Quick Trivia... who has more catches this season, Gonzo, Holmes or Ginn?
Just like last week, not having a statistical leader allows me to give the award to a season long performer who may not get recognized on a consistent basis. With Pittsburgh's 33-10 victory in New England, the Steelers have now won three straight and have allowed only 10 points in each of those contest, climbing to 9-3 and second in the AFC.
The architect of that great defense of course is Buckeye great Dick Lebeau, in his fifth season as the Steelers defensive coordinator (for the 2nd time) and 35th year in the league as a coach. Pittsburgh once again is ranked first in the NFL for total defense, as Lebeau's zone blitz invention still has offenses guessing which gap their coming from.
Matt Cassel and NE had scored 78 points and passed for over 400 yards in the past two games, but LeBeau and the Steelers held the Patriots to 267 total yards and created 5 turnovers. On the season, Pittsburgh is giving up a mere 238 yards a game and leads the league in sacks with 42.
I have always hated the Steelers, but this defense is incredible to watch and I have wanted to give LeBeau his due props all season. The road doesn't get easier, as the Steelers host Dallas this week, travel to Baltimore and Tennessee the following two and finish off with Cleveland.