The football gods have spoken, and behold: They have appointed unto Ohio State a date in the desert with a team angry about not having been invited to the national title game, and sporting a Heisman Trophy-caliber quarterback. Goody, goody.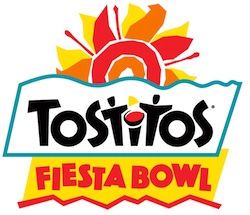 The Longhorns might be upset about not being invited to the BCS title game, but it's somewhat apropos that they be invited to the Fiesta Bowl – a game started by people upset about a lack of bowl invitations. In the late 1960s, the WAC found its champion staying at home on New Year's Day; invites were hard to come by in a bowl system dominated by the major conferences. In 1970, after conference champion Arizona State was relegated to an appearance in the Peach Bowl, the WAC decided to quit waiting for an invitation to a major bowl. It picked up its toys, went home, and made a bowl game itself. Voila! We had a Fiesta Bowl.
The Fiesta Bowl started small, but established legitimacy with visits by Penn State and Nebraska in the mid-70s. In 1978, the WAC tie-in ended, but the game continued to draw teams from the major conferences. In 1981, the Fiesta Bowl Committee elected to play its game on New Year's Day, and scored a huge boost when Penn State beat Miami 14-10 in an unofficial national title game in 1986. The Bowl Coalition and Bowl Alliance – predecessors to the BCS – incorporated the Fiesta Bowl into their arrangements, and the Fiesta Bowl became a permanent part of the BCS system in the late 1990s.
With all that in mind, let's take a quick look back at Ohio State's appearances in the Fiesta Bowl over the years.
1980 – Penn State 31, Ohio State 19
Before there was Good Rex/Bad Rex, there was Good Art/Bad Art. A year after having played USC for the national championship in the 1979 Rose Bowl, the Buckeyes entered the Fiesta Bowl against Paterno's Lions with a 9-2 record, including losses to UCLA and Michigan – both in Columbus.
Things looked good in the first half. Penn State's Curt Warner took the opening snap 64 yards for a touchdown, but the Buckeyes roared back with 19 unanswered points. Schlichter completed 15 of his first 22 passes for 244 yards and three touchdowns, two of which went to wideout Doug Donley. Penn State picked up a field goal at the half, but things looked very good for Ohio State.
And then, something happened. Penn State consistently drove the ball on the ground against Ohio State. NFL-bust Todd Blackledge scored a touchdown on a keeper in the first five minutes of the third quarter, and the Lions added two more touchdowns on the ground in the fourth. Ohio State had no net yardage – zero – in the third quarter, and were held to just 73 total yards in the second half.
It was the first of several years that gave "Old 9 and 3 Earle" his nickname.
1984 – Ohio State 28, Pitt 23
From the start, this game appeared to be a matchup between teams of comparable talent. Bruce's Buckeyes entered the game with a record of 8-3 and a #14 ranking, sporting a win at Oklahoma and losses to Michigan, Iowa and Illinois. Fifteenth-ranked Pitt, coached by Foge Fazio, had a record of 8-2-1, but no Dan Marino. It started methodically, but the game did not disappoint.
Ohio State scored early on a keeper by Mike Tomczak. Pitt tied the game at 7 apiece with a touchdown pass to wideout Clint Wilson, but Keith Byars put the Buckeyes ahead 14-7 at the half with an 11-yard touchdown run.
No one scored in the third quarter, as both teams tried to ride their running games, generally throwing the ball only off play-action, but the fourth quarter was a whirlwind.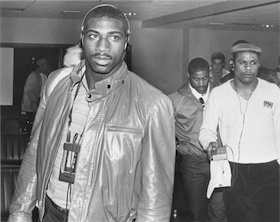 Pitt running back Joe McCall fumbled the ball forward – into the end zone – at the Ohio State 1-yard line. Clint Wilson pounced on the ball allowing Pitt to tied the game at 14. On the ensuing kickoff, Keith Byars scampered for a 99-yard touchdown, but Pitt answered that with a nice drive that ended with another touchdown pass – this time to Dwight Collins. For some reason known only to him, Fazio went for two, and failed, allowing Ohio State to keep a 21-20 lead. Pitt held Ohio State to a three-and-out on its next possession, then drove to an apparent game-winning 37-yard field goal with 2:39 remaining.
Trailing 23-21, Tomczak drove the Buckeyes past midfield, then hit Thad Jemison on a 39-yard touchdown pass with only 39 seconds remaining.
A boring game that had folks heading for the exits in the third quarter ended with offensive fireworks. The two teams combined for thirty points in the fourth quarter.
"The way we came back at the end of the game with the last-second touchdown pass was amazing," said Keith Byars. "We just banded together, and it was definitely an Ohio State day."
2003 – Ohio State 31, Miami 24 (2 OT)
If you're a regular visitor to 11W, you already have this game on DVD, and it's probably playing in the background as you read this. You probably have a Fathead of Craig Krenzel on your wall, and still get a little bleary-eyed when you think of Cie Grant singing "Carmen Ohio" at the post-game pep rally.
If you don't, I'm assuming you're a Kansas State troll, looking for something to get riled about.
2004 - Ohio State 35, Kansas State 28
Speaking of K-State trolls, we covered this game last week and at risk of offending the entire state again, we'll just point you back to the original post if you want to read up on it.
2006 – Ohio State 34, Notre Dame 20
Jim Tressel's Buckeyes had a tough year. Widely expected to be national title contenders, they stubbed their collective toes twice: once in Columbus against Vince Young and the Longhorns, and again in Happy Valley, against #18 Penn State. The team recovered well, though, as Troy Smith settled into the quarterback position and guided the Buckeyes to a #4 ranking and six straight wins, including a thriller at #17-ranked Michigan.
Regrettably, the Buckeyes had their work cut out for them. Notre Dame was coached by Charlie Weis, an offensive genius who was widely credited for inventing the pro set, the hot route, three-wides, the delayed draw and the very discovery of fire. The Irish came to Tempe sporting a #5 ranking and a pretty boy at quarterback.
Notre Dame started off quickly, and took a 7-0 lead off a 20-yard touchdown run by Darius Walker. Then Ted Ginn took over. He snatched a 56-yard touchdown pass from Smith, then ran for a 68-yard touchdown off a reverse. Smith threw an 85-yard bomb to future Ricky Williams-wannabe Santonio Holmes, and Ohio State led 21-7 at the half.
At halftime, Charlie Weis ate an entire living cow to motivate his team, and the Irish responded: another Darius Walker run cut Ohio State's lead to fourteen. Two Ohio State field goals made the score 27-13. A third Irish touchdown from Walker brought Notre Dame to within 27-20, in a game where the score belied the physical beating Ohio State was administering on the field.
As the fourth quarter winded down, Ohio State went to the ground game, pounding Notre Dame into submission. Antonio Pittman tore off a 60-yard touchdown run, and Ohio State went on to win, 34-20.
All told, Ohio State stands 4-1 in the Fiesta Bowl, with Texas on the horizon. Having disposed of Colt McCoy once before, let's see if Ohio State can do it again, and reestablish the program's reputation in postseason play.