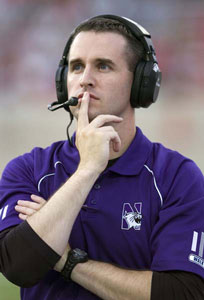 The Buckeyes need to take some frustrations out in the worst way. I'd love more than anything to see Beanie, Pryor and crew hang a half a hundie this weekend. This offense needs it and as a fans, it's up to us to project hatred and destruction on Northwestern. After all, Woody would want it.
But the truth is, it's hard to hate the Wildcats. I've tried -- it's impossible.
They're the only school in the conference than can rightfully tell Michigan to eat it when it comes to academics, they typically make the most of their talent and Pat Fitzgerald is an inspiring story. That and the fans are kind enough to free up enough seats to turn every game in Ryan Field into a de facto road game for the Cats.
Hopefully Tressel's boys can do a little better job of creating some anger because the conditions are ripe for a nerve-wracking afternoon. I was thinking we may be in store for a rare offensive explosion earlier in the week. But that was before Thursday's drama. Throw in the fact that the Cats are actually decent this year and the weather shaping up to favor an underdog, and you have cause for a little worry.
It's hard to see the Buckeyes losing this one, but then again, this offense has generated more questions than answers. And the Cats do have a small trend on their side.
Opponent
Thankfully, Northwestern has been decimated by injuries the last few weeks. Out is Sutton, as is is backup Conteh. Ditto for defensive end Vince Browne, linebacker Malcolm Arrington and countless other Wildcats.
The good news is that quarterback C.J. Bachér should be back from a hamstring injury. Or is that bad news? Despite passing for a school-record 3,656 yards last season, the senior has struggled this year and backup Mike Kafka has such giant stones that he only set the Big Ten rushing record for a quarterback last week in his first start since 2006.
Fitzgerald's team is going to throw the ball on offense -- even with Sutton healthy, Bachér put the ball up nearly 38 times per game. When they do try to run, look for them to utilize Kafka in some creative ways and you can bet Heacock has been harping on halfback passes and other backfield tomfoolery for the better part of this week. Sophomore Stephen Simmons, a micro-back, will get whatever scraps are left and may triple his season total of four carries.
As much as the Wildcats pass, it's only mildly surprising that they have three receivers with more total yards on the season than Robo or Hartline (hell, even Sutton has just 20 or so fewer receiving yards than either of the Brians). Ross Lane, Eric Peterman and Rasheeed Ward all put up about the same numbers, but Peterman is the most consistent of the three.
NU's defense has been stung particularly hard by injuries with the aforementioned Browne and Arrington as well as end Rejaie Johnson and cornerback Justan Vaughn out for the season as well. Still, it was the defense that came up with the big play to seal the win over Minnesota last week when safety Brendan Smith returned an interception 48 yards for the winning margin in the waning seconds.
With winds expeted near 20 mph and possible showers, the Cat defense can probably take solace in the fact that the Buckeye passing game will be strained on the day and they can focus their attention to stopping Wells, Pryor and the rushing attack. Another 58 points is certainly not expected.
Buckeye Breakdown
It's a relief to see the Buckeyes playing on the road. This season, save for California, they seem to play better on the road for reasons that are partly related to the home crowd being so quick with the booflex and associated friends and family distractions for the players. With the Ray and Ken Small cloud looming, the trip out of town may well be what the doctor ordered.
With the exception of Small, at best a 3rd option this season, the Buckeyes should be rested and traveling with their full accouterment of talented bodies. Beanie, healthier than he has been at any time since the opener should create a few of those my goodness, he just destroyed that dude's face moments after being held to his worst game of the season two weeks ago against Penn State. He looks like the type of back that was put on Earth to pile up 200+ in bad weather.
The loss to the Fightin' JoePas was tough to swallow, but Pryor did have his best passing game of the year. It was pointed out here and elsewhere, but his throw-away out of bounds was just another step on his evolutionary progress. First time we've seen it this season, and we loved it. While conditions may limit him in the passing game, he's had two weeks to work on read handoffs and hopefully the option. And Allah-willing, we'll see the pistol again.
Northwestern, being Northwestern, doesn't exactly have a dominant defensive front. Will the line show up and put together their 2nd complete game of the season? They're cognizant of the chatter that they're the weak link on this offense and here's to hoping the two weeks were filled with plenty of reflection both on where they want to take the team (BCS or late December bowlin') and where they want to go with their own careers. Alex Boone, the top-performer of the group, is playing for future cash every Saturday.
The Buckeyes are well-positioned on defense, with the secondary, the strength of their unit, taking on the Northwestern arial attack. I like the Buckeyes in this one. Bachér may find some low-hanging fruit underneath in this one, but without a real fear of the running game, Ohio State can roll more nickel with linebackers dropping into coverage. Freeman or Laurinaitis would make great spies when Kafka is in the game, so things shouldn't get out of hand from that perspective.
If there's anything that has me tuning in as of late, it's a maturing defensive front, that seems to improve with each outing and incredibly has performed better since the loss of Lawrence Wilson (truly one of man's unsolved mysteries). Thaddeus Maximus has quickly become one of our favorite Buckeyes and although Bachér gets the ball off pretty quickly, he could come away with a couple of more sacks or man-ball separations to keep his legend alive and well.
PREDICTION:
The weather and home-cookin' will help -- and the Wildcats are legit this year, but we just can't really see this one getting all that close. Not last year, but not exactly Purdue, either.

Ohio State 26, Northwestern 13