After having largely avoided the injury bug the past few seasons, the Buckeyes have taken their lumps in 2008. Beanie's injury, while not season-ending, was the biggest setback, but there have been many others. Whether you value their contributions or not, both Rehring and Person have missed games due to injury and two of the three prized freshmen linemen are out for the year.
Tight ends Jake Ballard and Rory Nicol were shelved at the same time and both Robiskie and Saine have carried lingering preseason injuries with them. Boom and Sanzenbacher were each rocked for concussion at Wisconsin and while Dane played against Penn State, Boom hasn't seen the field in a month.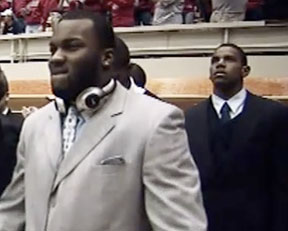 The defense hasn't been hit as hard, but hasn't escaped unharmed either. Wilson is gone and Chekwa and Jenkins have both battled minor injuries as of late.
If there's any good news, it's that coming off of the bye week, the Buckeyes are quite possibly as healthy as they've been since the opener.
While the depth chart released for the Northwestern game doesn't look that much different than what was released for Penn State, the fact that the team is rested and some personnel decisions have narrowed has me feeling optimistic heading to Evanston.
The Wildcats are certainly better than the team that was blitzed 58-7 on a beautiful September Saturday last season and Ohio State still has plenty of things to figure out -- like consistent offensive line play -- but they've also had two weeks to stew over a gut-wrenching home loss to the Nittany Lions.
The offense is also due (again). Lost in all of this agonizing over the play of the offense has been the fact that Pryor has been pretty accurate throwing the ball this season. Some of his balls still look like freshman throws, but not once this season has he failed to complete less than 60% of his throws in a game. Against Penn State, Pryor had his finest game of the season, completing 16 of 25 for 226 yards. Take away the three spikes to stop the clock and he's 16/22 or good enough for a 72% completion percentage. I'm not sure what it says that his three best games in that sense are against USC (78%), Purdue (71%) and Penn State, but completing the majority of your attempts will never be frowned upon.
Pryor's backfield mate is one of those backs that performs better when given adequate rest. Beanie has that heading into Northwestern and you should expect big things out of him. Especially with Boom back and hopefully the pistol along with it.
On special teams, a small tweak that's going to pay a big dividend at any moment has been featuring Lamaar Thomas on kick returns. Penn State got the memo and kicked away from him late in the game two weeks ago, but would any of you be surprised if he got his first this weekend?
The defense has been playing as well as any unit in the conference lately and when the offense puts things together, the results are in line with what we saw in East Lansing. If that happens again Saturday, which I fully expect, the score could get out of hound (EDIT 4/4/08 1734ET: like "out of hand" but much radder) quickly again. However, if the offense comes out of this break, still sputtering, the Buckeyes are going to be in for a real fight to make it into a New Year's Day bowl.