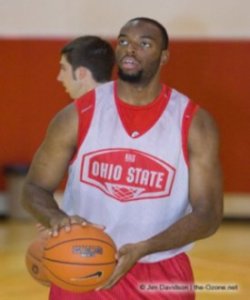 Thad Matta received a double dose of bad news along the baseline in the form of a minor injury an announcement of ineligibility.
First up is the NCAA's decision that juco transfer Nikola Kecman must sit out the first 12 games as punishment for playing for a Serbian team featuring professional players.
Though it was determined by both the NCAA and OSU that Kecman wasn't paid to play, he was still put on ice because players were provided "more than actual and necessary expenses" as the team transitioned from amateur to professional status.
It wasn't disclosed what might have actually been provided but our sources indicate Kecman may have received 5 pairs of stonewashed Lee jeans and some old school size 13 light up L.A. Gear high-tops.
The decision was a joint one between the NCAA and the school making it hard for the fan base to complain. Plus, Matta knew the risk when he signed Kecman as rumors were already swirling regarding a potential question of eligibility.
On the injury front, Bob Baptist reported Tuesday that Dallas Lauderdale suffered a minor shoulder sprain during the Sunday scrimmage against Miami University.
Matta will keep Lauderdale out of the Nov. 13 exhibition against Walsh but DL should be back in time for the regular season opener Nov. 20 against Delaware State.
While the injury isn't reported as serious it's still a minor issue on two fronts. First, Lauderdale has, by all accounts, had an exceptional off season improving his skills and subsequently his confidence. An injury of any kind is significant as it slows his progress in a year in which Matta needs all he can get from the 6'8" post man with a 7'4" wingspan.
Obviously, it's huge that Lauderdale fully heals before getting back on the court because this team can't afford for him to have a lingering injury hampering his minutes or effectiveness once conference play begins.
Second, if the injury does linger, it puts a lot more pressure on 7'0" freshman B.J. Mullens. I view this as somewhat significant because I'm simply not sold on Mullens being a force from day one. He was certainly dominant against Division II high school competition but from what I've seen, his offensive game needs polish and though he checks in at 275 lbs., he can be pushed out of position on the low block.
Having Lauderdale take the pressure off will be key to Mullens seeing early success and gaining his own confidence as he feels his way through the non-conference schedule.
Touching on the Miami scrimmage in which Lauderdale was hurt, reports indicate OSU lost both halves (24-15 an 24-23) to a veteran Redhawk squad with eyes on an invite the the big dance.