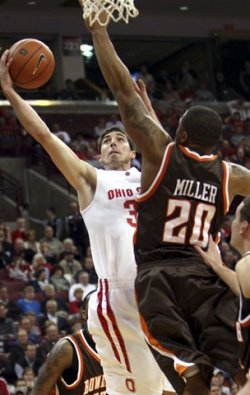 Looks like someone is gaining confidence. After scoring 9 points (3/6 treys) in the opener, Jon Diebler led all scorers with 17 points as Ohio State slipped past Bowling Green 61-57 tonight in the Schott.
The sophomore who struggled mightily with stand-on-the-perimeter-and-launch-three-itis last year, looked to drive the ball early and often scoring 6 straight points off penetration (2 FG, 2 FT) to give OSU a 16-8 lead in the early going. Diebler also tallied 5 rebounds and 3 assists in a well rounded performance.
Complimenting Diebler's effort, Evan Turner added 12 points and 8 boards but showed turnovers are still his achilles heel. He showed poor basketball IQ, especially late in the game turning it over twice in the closing minutes allowing BG to hang around before he and David Lighty each hit a pair of free throws in the final :28 to seal the deal. He's killing me with those TO's as he's clearly the best all around player on this team.
The Buckeyes led 41-30 with 14 minutes to play but found themselves in a dogfight after surrendering a 20-8 BG run resulting in a 50-49 deficit with 5:20 to go. Enter Dallas Lauderdale and the defense.
Lauderdale fueled an 8-0 run over the next two minutes converting a conventional three point play with a dunk and free throw before a Diebler triple while the zone defense held the Falcons to 7 points (3/9 FG) over the final 5 minutes.
It wasn't a pretty win, but for a young team finding it's way, I think it's safe to say plenty more of these tight games are forthcoming.
On the inside, Dallas finished with 8 points, 7 boards and 6 blocks in 30 minutes but BJ Mullens only saw 11 minutes of action producing 2 points and 1 carom. Unfortunately, I still have the same feeling about Mullens as I did after the open practice. He's nowhere near a 'project', but he appears far from comfortable at the offensive end of the floor if matched up against a physical opponent, regardless of height.
Jeremie Simmons also had a rough night hitting just 2/9 shots (6 points) though he did add 5 boards and 3 dimes. Anthony Crater registered just 11 minutes of PT contributing 3 points and 1 assist. I still like this point guard combo but neither dazzled me running the offense against BG's zone. Both struggled to get penetration and kick out resulting in a lot of standing around by the other perimeter players.
Some other random bits:
Wil Buford had another strong performance with 9 points (3/6 FG) and 3 steals in 16 minutes. He also had a sweet steal and lay in that was negated by a phantom charging call. So far, I'm very impressed with how he blends into the offense. He quietly scored 7 of OSU's 8 points during a 4 minute stretch of the second half in place of Turner after he took a shot to the face.
Besides coming to an agreement with Time Warner, the best move the BTN has made is signing Gus Johnson to cover play by play. He's by far my favorite hoops announcer as he can make even OSU/BG in November exciting. I love his shouts of "puuuure" on deep jumpers. Just an awesome guy to listen to.
On the flip, as much as I love Jim Jackson, his color commentary leaves a little to be desired. I was waiting for someone in the production truck to inform him OSU was playing zone after he incorrectly referred to OSU's man to man defense twice in the first half.