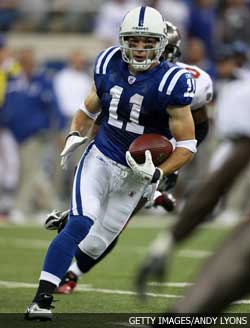 It wasn't an eye-popping statistical week for the former Buckeyes, but there were a couple of performances that were critical to team wins as the playoff picture becomes a bit clearer.
Unfortunately, I must start with some injury news. Donte Whitner had four tackles before separating his shoulder in the second half of Buffalo's 26-17 home loss to Nick Mangold and the Jets.
Speaking of the Jets, Vernon Gholston is not having the rookie season he imagined, registering only 7 tackles through the first nine games, including just an assist on Sunday.
While it was in a losing effort, Ryan Pickett gets a special mention for his play in Green Bay's 19-16 OT road loss at Tennessee. Pickett had a season best 6 tackles and recorded his first sack of the season, while AJ Hawk chipped in with 6 tackles as well.
Some of the lesser offensive games included Ted Ginn's 3 catches for 39 yards, Joey Galloway's catch for 22 yards and Antonio Pittman's 14 touches for 27 yards. On the defensive side, Antoine Winfield had 5 tackles and his second interception of the season in Minnesota's 28-21 home victory over Houston.
When it came down to it though, it was another battle between former first round picks in Michael Jenkins and Anthony Gonzalez, with Gonzo pulling out the win.
Jenkins was held to two catches, but made both of them count in Atlanta's 24-0 win over futile Oakland. His first catch was a 37 yard touchdown to put Atlanta up 7-0 and then added a 27 yard TD in the second. Surprisingly the 64 yards were Jenkins high on the season and it was his first touchdown since week one. On the season he now has 18 catches for 323 yards and 3 TD's.
Gonzo takes home his second award this year, with a clutch game in the Colts 18-15 home win against the Patriots. He totaled 4 catches for 55 yards and 2 touchdowns. The TD's (12 and 9) were the Colts only two of the game and his first two of the season. His final catch was a 24 yarder on 3 and 9 in the fourth, that flipped the field from Indy's 39 to the NE 37 and set up the game winning field goal.
On the season AG has 34 catches for 412 yards, with 22 of those going for first downs. He is three catches shy of last year's total and has now caught 4+ balls in 6 of 8 games this year, including four straight.
Special mention has to go to Dick LeBeau for the lockdown his Steelers defense put on the Redskins in D.C. Monday night. After Washington jumped out to a 6-0 lead in the first 4 minutes, the Steel Curtain created 7 sacks, 1 blocked punt and 2 interceptions, the first picks Jason Campbell has thrown all year. Clinton Portis was held to 51 rushing yards, his first game below 120 since week 3 and no WR has more than 22 yards receiving, while the Redskins were 3-15 on 3rd down.