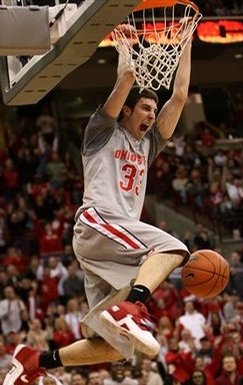 I know we're in the heart of football season but the hoops squad is only six weeks removed from their first exhibition game and seven weeks from the season opener against Delaware State. This, coupled with Dickie V recently naming Jon Diebler as a sophomore who will have a greater impact this season got me thinking some roundball.
As long as worthy updates persist, I'll use my Thursday afternoon slot for hoops related happenings leading up to tip off.
There's no doubt Diebler took his lumps in last year's up and mostly down season. He did manage to bury 48 triples, good for 2nd all time for OSU freshmen, however he needed 166 attempts to do it meaning he shot a meager 28.9% from beyond the arc.
The campaign also saw him struggle to get his own shot against college defenders and his ball handling (43 turnovers against 45 assists) was still on the high school level resulting in 80% of his field goal attempts coming from deep.
His limited skill set was further diminished by a lack of confidence meaning he needed a summer of major growth to avoid significant bench time this season considering Matta's glut of perimeter players including wings Evan Turner, David Lighty and William Buford combined with point guards Jeremie Simmons, PJ Hill and Noopy Crater.
I'm not convinced Diebler has a ceiling above being a spare part streak shooter but I would like nothing more than to see this kid prove Vitale right. Personally, I think Diebs showed enough physical and mental flaws in his game to have me thinking Vitale needs to lay off the Patron.
What do you guys think? Will Diebler breakout this year or will he struggle to get minutes?