It's the midpoint of the 2008 college football season and in a sign of just how high the expectations have become in Columbus, a 5-1 team that's ranked in the top dozen in each of the two major polls is toting around a 2.5 grade point average in our book.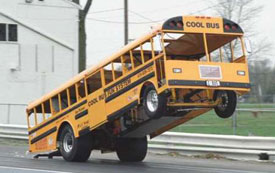 Essentially two B's and two C's when looking at the offense, defense, special teams and coaching. This is not exactly what was expected of a team with so many seniors, particularly of the 5th-year variety. Makes all of that talk about comparisons to '98 seem a little silly, doesn't it?
Offense: B
There was the YSU blowout, but that must be kept in context. And the offense has really picked up since the reigns were turned over to Pryor, but for a unit that returned virtually everyone but a right tackle from last season's 11-2 squad, the play of the offense has been a bit... um... underwhelming.
True, the franchise player went down in the opener and missed the Ohio, USC and Troy games, but it took until Wisconsin in the sixth game of the season for the offensive line to finally get something going. And don't even mention the receivers. Both Robiskie and Hartline are well behind last season's paces and Small has vacillated from looking great to getting into trouble to looking like it's his first season.
On the freshman front, the Buckeyes appear to have found their center of the future and I have a hunch that Brewster is going to be a damn fine lineman by about week 9 or so. Posey will get his first shot at extended action this weekend after seeing progressively more and more snaps over the course of the past handful of games and that's music to the ears to many.
The Buckeyes are 11th in the Big Ten in passing offense, 10th in total offense and 5th in scoring offense. There is a lot of room for improvement on this one, however, with a healthy Beanie (137 yards/game in Big Ten play) and Pryor getting more and more comfortable running the show. If the line can build on the Wisconsin game and Pryor finds that one big play guy (or two) on the edge, there's the potential to put up some points the rest of the way.
---
Defense: C+
This may seem like a harsh mark for a unit that's only allowing 16 points a game (12 if you go back in time and cancel the USC game), but I think most of us thought the defense would be a dominating force. One of the top crews in the nation only a year ago and with just about everyone back, I had envisioned about three shutouts by this point in time.
Unlike the offense, the defense hasn't had any big front line injuries, either. There were the suspensions of Washington and O'Neal for the first two games, but based on how slowly those two have earned back their playing time, it's hard to make an argument that losing the two hurt the team from a talent or chemistry perspective.
Starting with the Bobcats behind a backup quarterback and continuing through USC, Troy and Wisconsin, teams have had success moving the ball on this defense. Laurinaitis has been good, but not spectacular, averaging 9.5 tackles per game, Freeman has disappeared at times and the line has led the charge to the bottom of the conference in sacks and TFLs. That and quarterbacks are realizing that they can pick on the middle of the Buckeye secondary for nice chunks of yardage.
What's crazy is that on paper, the unit appears to be in great shape. They are 4th in the conference in rushing defense, 1st in passing defense, 2nd in total defense and 4th in scoring defense. That aside, it's doubtful many of you would consider this an elite group on par with recent editions.
Again, there's a chance to move this grade up as some of the youngsters are starting to step up. Homan has turned in two straight outings with double-digit tackle totals and is currently second in the Big Ten in fumble recoveries. A slightly meaningless stat, but some guys have ball magnets on their hands and it looks like he may be one of them. Thaddeus Gibson, in only a couple of starts, has given the line a shot. In Madison, he was directly responsible for both Badger turnovers and deserves as much credit as anyone on the defense for that win.
Jenkins and Chekwa have been sharp and the rise of Hines has been a lot of fun to watch -- in fact, after a year of butter fingers, the defense is 2nd in the Big Ten with 9 interceptions -- but the line's lack of penetration and the safeties' inability to cover receivers down the middle of the field is pulling this group down a little.
---
Special Teams: C
While Ray Small is leading the Big Ten in punt returns and A.J. Trapasso is leading the conference in punting, the play of Pretorius has been erratic and the kick return game is downright dirty. Pretorius has missed an extra point and is 1/3 from 40-49 and 1/2 at 50+. I can live with that success rate from 50 and out, but 33% from the 40s is not what you'd expect out of a Jim Tressel kicker. Throw in the missed PAT against Ohio and it hasn't exactly been a roaring start to 2008 for the South African.
Only Michigan State has a more anemic kick return game in the conference and that's astounding when you consider the talent and burners the Buckeyes have the luxury of sending back on returns. Saine has been in a funk all season -- I think that's the best way to describe it. I'm not sure if it's still lingering doubts about his hamstring injury or what, but on returns it almost looks like he heads right for the nearest group of defenders after he crosses the 15. Rasta Wells turned in a nice 24 yard return against the Badgers last weekend and he'll get more chances against Purdue with Boom out. Maybe that's where he makes his mark as a senior? I'm not sure.
---
Coaching: B-
This grade would certainly have been a lot lower had the staff not shaken things over the course of the last month by turning the quarterback job over to Pryor, putting Brewster in at center, getting Thaddeus Maximus on to the field and trying to figure out ways to get Posey and some of the other receivers more involved. Consider that some effective last-minute cramming.
Pryor has definitely been a spark, but both he and Beanie would make any staff look good. With those two in the backfield, everything else starts to open up. The line seems to block better and the passing game starts to come to life a little.
I'm not sure if my mind is playing tricks on me, but it does appear that Heacock has dialed up some more man-coverage blitzes as of late. Not that the blitzes are connecting, but the strategy tweak is appreciated.
However, the bottom line here is the fact that a roster with this much talent has not produced a single conference player of the week through six games. Not on offense. Not on defense. Not on special teams. That's pretty hard to believe.