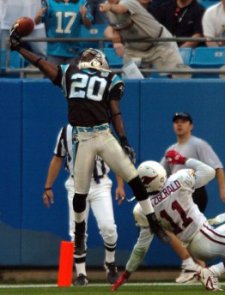 For the first time in a few weeks, the former Buckeye wide receivers showed some life in the statistical category, but only one of their teams managed a win.
On the defensive side of things, there were a few standout performances by a couple of corners, making this week's decision a bit tougher.
Ted Ginn got back on the right track in a 27-13 loss to Baltimore, as he reeled in 4 catches for 48 yards and returned 5 kickoffs for 90 yards. Anthony Gonzalez recorded more catches (5) and yards (72) than Marvin Harrison and Reggie Wayne combined in a 34-14 defeat in Green Bay. BTW, anyone know what happened to A.J. Hawk? He didn't register any tackles, but I haven't heard of an injury.
Nate Clements tried to send his coach out in style with 5 tackles and a 76 yard return of a blocked field goal, but the 49ers lost to the Giants 29-17. Even though they lost, Nate got strong consideration this week with his Beanie Hop into the endzone, helping to solidify the dance craze that is hitting the nation. Thanks to BigRedBuckeye for the tip.
I'm sure Steeler fans will be cursing me for not going with Santonio Holmes this week, as he produced 5 catches for 89 yards and 3 punt returns for 21 yards in their 38-10 pasting of Cincinnati. But it was against the Bengals and with all due respect to Santonio, anyone can put up those numbers against that winless team in Cincy. With the victory, the Steelers took a commanding two game lead in the division over Baltimore and have won three straight.
However this week's award goes to Chris Gamble. The Panthers waxed the Saints 30-7, to keep pace with Tampa Bay in the NFC South at 5-2. Gamble lead the team in tackles with 8, as the Carolina defense completely shut down the high powered Saints offense, holding Drew Brees to just 231 yards passing. No New Orleans wide receiver caught more than 3 passes.
This is Gamble's first Buckeye NFLer of the week award this year, joining his teammate Na'il Diggs (week one) in this distinguished honor. On the season Gamble is the Panther's third leading tackler with 40 stops and has also recorded one pick. He has already tied a career high with 9 passes broken up. If the Panthers keep winning, I wouldn't be surprised to see Gamble get some strong All-Pro consideration. Imagine that game, Winfield, Gamble and Clements could all be on the same squad.
The NFL season is reaching the halfway point and there are some really bad teams showing up each week. Couple that with the rise of some current Buckeye defenders and we may have to brace ourselves for Little Animal in a Chiefs uniform or Jenkins donning a Lions jersey. Taking away any type of draft position, is there any current Buckeye player you would love to have on your favorite NFL team? I know Marcus Freeman playing alongside Brian Urlacher and Lance Briggs sure sounds good to me.