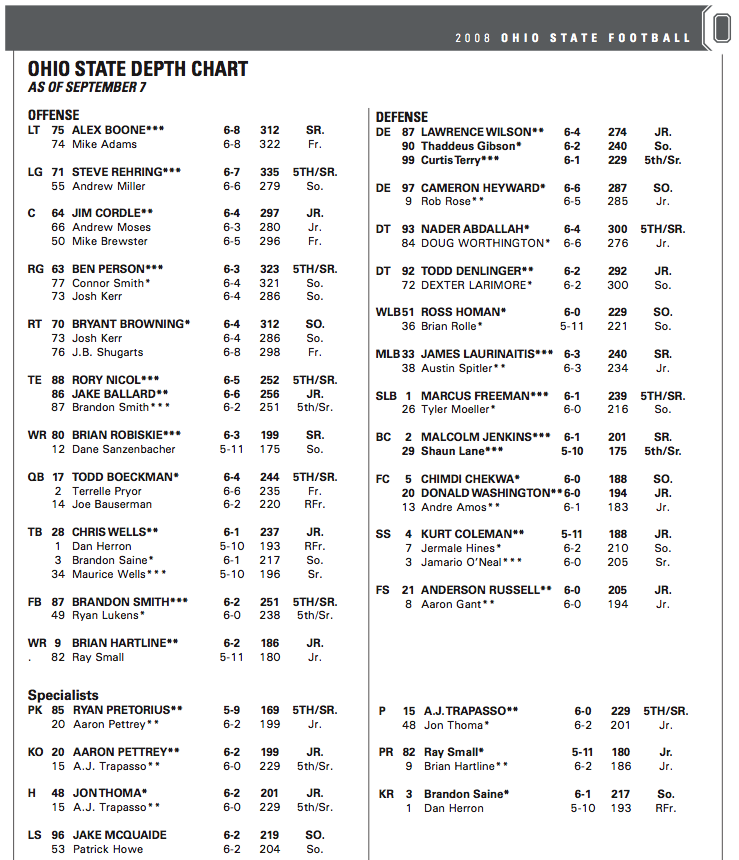 The depth chart for the USC game was released today and the only real change from last week is the elevation of Terrelle Pryor into the #2 spot at quarterback. Tressel had indicated that Pryor would be the backup for Boeckman last week though Bauserman was still listed as the backup on paper.
Not to beat a dead horse, but the real tragedy with the performance against the Bobcats was the fact that Pryor was only in the game for a little more than half-dozen snaps. Considering the problems that mobile quarterbacks have given the Trojans recently, his limited action is a lost opportunity. What's more concerning is the fact that he hasn't received the work throwing the football that the staff would probably have preferred. I think it was Maualuga that was quoted earlier in the week mentioning that when Pryor is in the game, you know he's running. It would have been nice to have a 2nd dimension to be concerned about.
He's an amazing talent and is rightfully garnering comparisons to Vince Young, but even Young as a freshman would have his hands full with this Trojan defense.
---
Beanie was running Monday, but did not participate in practice. You know he's a go for the game, but at what speed? An argument can be made that he played pretty dinged-up last season and still did pretty well for himself, but something tells me this injury may be a little more serious than what he suffered last season. A guy doesn't go down like he's been shot only to have it be something minor.
---
The line for Saturday's game started in the 9.5-10 range on Sunday, quickly moved north of 11 and has settled back into 10-10.5 territory. Vegas does get a lot of money coming in from Southern California, but what's telling is that the line hasn't come down much in the last day or so. This spread is surely the largest of the Tressel era outside of maybe his inaugural season and most definitely unheard of in a matchup of top five teams. Hell, Nebraska was only getting 9 last year.