After taking in Pryor's opening performance, I began to daydream about what a backfield would look like with Beanie Wells joining him in it. I've been dreaming of that option combo for about six months now and most of us are hoping to get to see that in action soon.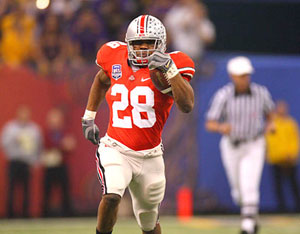 But when will Beanie be able to go again? Working under the assumption that it is turf toe, it's really hard to to pinpoint when he'll carry the ball again.
If you recall, Ross Homan went down due to turf toe in the Washington game last year and despite wanting to hit the field the following week, was held out the final 10 games of the season.
Besides describing the pain as feeling like he was stepping on nails every time he put some pressure on it and stating that he wasn't able to perform even at 50 percent, he had this to say about treatment:
"It wasn't like you could tape it up and just take some ibuprofen or some painkillers. It was constantly there. I just had to let it rest."
Homan may have had a more severe case of turf toe and some athletes are able to return to the field sooner. Darren McFadden came down with a bit of the funky toe last week against the Chiefs, but was still able to put up 14 carries yesterday while splitting time with Michael Bush.
It all depends on how much the ligament is damaged and seeing him crumple in pain when it happened and the fact that he wasn't on the field to play USC leads me to believe Beanie may have a more serious case of it. I think the current conventional wisdom is correct in that he most likely won't play against Minnesota, with Wisconsin being a real indicator of whether he'll be back this year or not. If he doesn't play against the Badgers, I'm afraid we may have witnessed his last rush of 2008.
If that were to be the case, the next question is whether the he'd be redshirted and I think that's a foregone conclusion. The redshirt costs the team and Beanie nothing -- he can still leave early for the NFL because he'll be three years removed from high school for next April's draft. He would be eligible for the redshirt based on the fact that he won't appear in more than 30 percent of the team's games and you leave him with the option of having two more years in Columbus in the extremely unlikely event he'd want to play two more. At this point, it would be all about creating more options for him and redshirting him does that.
A silver lining in his injury -- depending on how you want to look at this -- is that if he had not been injured, we probably would have had to wait a year to witness the full talents of the super-freak that is Terrelle Pryor. Todd certainly had his own moments, but there's no question Beanie made his job a hell of a lot easier.
---
Other Monday bits:
It's only one game, but if Pryor had the requisite number of attempts to qualify for the NCAA passing efficiency leaders, he'd check-in at fourth with a rating of 205.48. He will get better. And for a point of reference, Vince Young didn't get his first start until halfway through his redshirt freshman season.
With or without Beanie, the Minnesota matchup may be closer than the 19-point line already floating around. Gopher bloggers are in full taunt mode saying that the Buckeyes are not very good and to bring on Ohio State. Minnesota fans are not normally this feisty so deep into September, but 4-0 starts will do that.
WFNY took a good look at recruiting classes during the last handful of years and have concluded that maybe there is a talent gap between Ohio State and USC and some of the other elite schools. 2008 and the 2009 verbals are outstanding classes, but the Buckeyes have pulled in classes ranked 25th, 11th, 13th and 16th during the past 6 years.