We thought we'd bring in the Gopher bloggers that have been running some smack on the Buckeyes for a better part of the last week to get their perspective on what it would take for Minnesota to pull out a victory in Columbus this weekend. PJS from The Daily Gopher was kind enough to provide these five keys.
Hey Ohio State fans, I know you're a littly grumpy. After all, the lowly Gophers of Minnesota think they might be able to come into the 'Shoe and win the Big Ten opener. So, instead of outright predicting a Minnesota win, I'll instead play nice and give you a handful of keys to victory Saturday for the maroon and gold.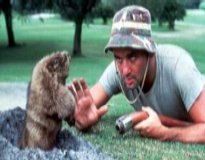 1) Poise Under Pressure: This includes everything from staying calm during tough situations to not letting the crowd noise impact the offensive line. Sophomore quarterback Adam Weber, who has been nearly perfect in four games, needs to make quick, decisive reads. He needs to look off safeties and not keep his eyes glued on one receiver (Eric Decker). Through four non-conference games last year, the Gophers had turned the ball over 13 times. Through the 4-0 start in 2008, the Gophers have turned the ball over just twice!
2) Establish DeLeon Eskridge: E-Ridge, as we call him at TDG, is a freshman running back out of St. Paul who was rushed into a starting role after Duane Bennett went down for the season. Eskridge has stepped in to some success, despite a beleagured offensive line. While many think the spread coast offense Minnesota runs is pass-heavy, it's actually ball-control oriented. Through four games, the Gophers have attempted runs 155 times, mostly all out of the shotgun. Weber has passed just 110 times. So, getting E-Ridge off to a nice start is paramount to victory. Against FAU last week, E-Ridge carried the ball 19 times for 79 yards and added 6 catches for 61. And the week before that, in his first real significant action as a college player, E-Ridge ran 24 times for 119 yards and three touchdowns.
3) Defensive Opportunism: The biggest difference between this year and last for the Gophers has been on the defensive side of the ball. Instead of operating like an extra permeable sieve, the Gophers have been relatively stout. Tim Brewster's influx of JUCO athleticism on defense has paid immediate dividends in the way of increased pressure on quarterbacks, a better secondary and in the creation of turnovers. The defense has forced 13 turnovers in four games, and the Gophers have capitalized by scoring nine touchdowns off of these turnovers. If the Gophers are to win, they need to make Pryor look like a freshman. Some names to look for: Big Play Traye Simmons has two interceptions. And linebacker Simoni Lawrence, the type of athletic linebacker Minnesota hasn't had in a quite some time, single-handedly took over a posession against FAU last week with a blitz and sack from the edge and then a 50 yard interception return.
4) Beyond Eric Decker: Tim Brewster has a tendency to say tremendous a lot, and he likes to shower his players with superlatives. But when he says Eric Decker is one of the best receivers in the country, he's not exaggerating. The junior multi-sport athlete has caught 32 balls for 454 yards through four games and scored four touchdowns. The problem is, no one behind Decker has emerged as a true number two threat for Adam Weber. Weber's only interception this year came when he locked on Decker in the red zone and tried to force him the ball. Offensive coordinator Mike Dunbar has been creative in finding ways to get Decker the ball despite the attention paid to him by opposing defenses. But if Decker is to have the type of day the Gophers need to pull the upset, Weber will need one of his other receivers--Ralph Spry, Ben Kuznia, Brandon Green or tight end Jack Simmons--to step up. Through four games, Minnesota's second leading pass-catcher is Duane Bennett. And he only played in the first two games. That has to change.
5) Coaching: This is, by far, the biggest game in Tim Brewster's coaching career. A win will catapult the Gophers into the national spotlight and make them a chic pick to compete for the Big Ten title. A close loss will help Brewster make the argument this team is improving. A blowout loss will make the fair-weather Gophers fanbase take two steps back. How will Brewster respond if the game is tight? He has been routinely aggressive, going for fourth down conversions and not settling for field goals. Will this continue in a big game? How will he handle time management? And, perhaps most importantly, will he and his staff be able to put the right gameplan in place to frustrate Pryor and move the ball against the OSU defense? Minnesota fans still have many questions about Tim Brewster. He has a chance to answer some of them Saturday.