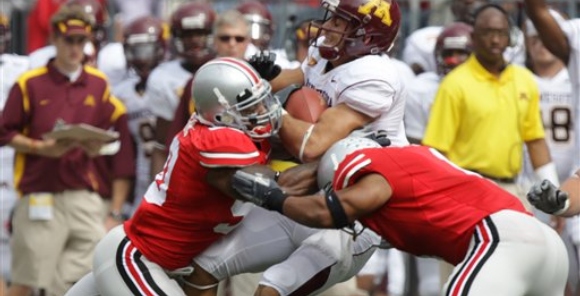 D-Licious The defense, especially the front four and safety Anderson Russell, have taken a little heat this year but I felt the unit played much faster yesterday and with a renewed sense of urgency. Sure, there were some breakdowns starting midway through the 3rd quarter but the game was no longer in doubt after a stout first half performance.
Statistically, the Silver Bullets surrendered only 92 first half yards - just 16 on the ground - yielding a minuscule four first downs. Even better, the defense came up with two turnovers in the opening half (3 total), in the form of a pick by Donald Washington and a fumble recovery by the (hopefully) resurgent Russell.
They picked up just one sack and five tackles for loss but I was happy with the pressure the front four was able to generate. If nothing else, Heyward clogged up the middle as he continues to get comfortable with the move to DT and my man Thaddeus Maximus looked to get decent pressure off the edge on numerous occasions. With the Minnesota offense focused on short to intermediate routes, to expect a ton of sacks was unrealistic.
Another encouraging sign was how the Buckeyes approached 3rd and short-medium. They often stuffed the box and brought the blitz forcing Adam Weber to get rid of the ball. The result? Minnesota converted just 2/7 third downs in the opening half.
Finally, I didn't see as many missed tackles this week. Laurinaitis still doesn't deserve to be mentioned in the same breath as Hawk, Kat, Spielman etc, but he had a solid, if unspectacular, 12 tackles with Ross Homan adding a career high 10 stops. Russell did something other than piss me off for the first time this year with 7 tackles and the fumble recovery and I was also glad to see Curtis Terry out there. He's got a mean streak that needs to rub off on his teammates. Dude will shank you. Serious.
Don't worry, I was already well aware before kickoff that Minnesota didn't belong on the same field as OSU (despite their delusions) but I still think the defense took a positive step forward. If nothing else, this should be a confidence builder as they began preparation for the Badgers.
The Continued Emancipation of Terrelle Start number two for Pryor was another step in the right direction. He still has some things to work on but man is he going to be sick.
Aerially speaking, I thought the TD to Robo was beautifully thrown and my impression was he didn't stare down receivers like he did at times versus Troy. Also, I know the majority of his throws have been short routes but the guy is an accurate passer. To my untrained eye (and to those sitting on the same couch as me every game) the main area to improve is knowing what type of pass to throw based on the route. Two specific throws yesterday illustrate this point.
He tried to hit Small coming out of a double move in the first half but the pass was more of a floater / touch pass when he really needed to put less loft and more heat on it. As a result, the defender was able to catch back up to Small and knock the ball away. Another example was the incompletion to Hartline on a post route with a little over two minutes left in the half. Again, he put a little too much under the ball when he needed to guide a laser in there. Hartline had some space but the ball needed more hair on it. A little knit picky but he did the same thing against Troy. Arm strength isn't an issue, he just needs to recognize what type of throw is required and confidently deliver. He will.
As my bro pointed out a few minutes before the BTN, Pryor had 7 TD in his first 7 quarters as a starter (5 pass, 2 run). On the season, he's now 28/44 (64%) through the air for 293 yards with 5 TD, 1 INT with another 47/292 on the ground, good for 6.2 yards per carry. Any doubt he's going to be the ultimate weapon in college football by the end of this year? Not in my eyes.
Rushing Attack in High Gear I assume you noticed Beanie's back - or was that Edwin Moses? Knowing Beanie can be a little dramatic, I was impressed in that he ran hard and sought contact, showing no concern for the foot mid-play.
And what's up with the offensive line? There were actually holes yesterday and I can't put my finger on why. Is it Tressel showing Bollman how to do his job or does Minnesota just suck? Or maybe it's that Beanie is such a force and with his power and unrivaled vision on cutbacks, he can make a pedestrian line look better? Maybe it's a little of all those things but either way, I like it.
As Jason discussed, the backfield is definitely special with Beanie and Pryor back there giving defenses something to think about. In the decisive first half, the duo combined for 155 yards on 15 carries, running downhill on virtually every touch. As teams scheme to stop them, that can only mean good things for the passing attack.
Another lesser discussed strength of Pryor's that impacts the rushing attack is his how well he hides the ball on fake handoffs. Those fakes are lethal in that when he does hand it to Wells, the defense has to freeze for a second to determine who actually has the rock. That extra time gives a little added advantage to the running back (or Pryor on the keeper) as the defenders are caught on their heels.
Finally, I know some knock Herron for a lack of big play / breakaway speed but if he's your backup, complementing the runs of Pryor and Beanie, then you've got yourself a lethal rushing attack. The kid popped another 10 carries for 50 yards and continues to improve his pass protection.
Again, I know Minnesota is a weak to mediocre team but the stat line of 37 carries for 279 yards (7.5 ypc) is fun to look at.
A Robiskie Sighting?! How 'bout Robo taking off the invisible cloak he donned the first month of the season? In the first four games, he produced a meager 12 catches for 113 yards and 2 TD while drawing the ire of the fans for too many drops, weak downfield blocking, a half hearted attempt at a sure TD toss from Pryor last week then lazily running out of bounds on a Pryor scramble killing a third down conversion.
Yesterday, however, Robo was a different man hauling in 8 passes for 90 yards and 2 scores. I'm still not sure he's a strong blocker but the catch of Boeckman's TD ball was pretty while the fade from Pryor was thrown so well I would've caught it (then got a penalty for excessive celebration as I moon-walked back the bench).
Hopefully, this will be the jump start needed to get Robo on track. Pryor's gonna need a go to guy and after yesterday, maybe he found one. I can't be sure though considering half of Robo's 8 grabs came on passes from Todd.
From the Aggravation Department
Not a whole lot to complain about yesterday but what the hell is the deal with 10 penalties for 90 yards? I heard all the blather about playing so many guys and how that led to the numerous illegal subsitution / 12 men in the huddle penalties but I don't want to hear that garbage. The coaches need to get that nonsense under control.
And how about that sequence at the end of the half before the 8 yard TP to Robo touchdown? A delay of game at the three yard line then they had to call a timeout on the next attempt at getting a play off. No excuse.
Can't say I was particularly fond of the two false starts on the drive toward the end of the 3rd quarter, either. The second one was especially painful as the Bucks were set to go for it on 4th and 3 from the Gopher 20 before the penalty made it 4th and 8 setting up a pushed 43 yarder from Pretorius. Ridiculous.