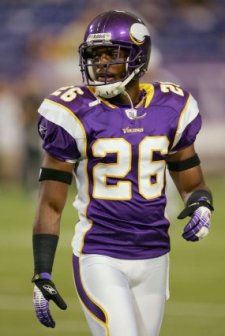 With a great sense of pride and honor, we give this week's award to one of 11W's all-time favorite Buckeyes, Antoine Winfield. In his fifth season as a Viking and 10th overall, Winfield recorded only his 2nd career sack this past weekend.
His numbers were not staggering, registering only 2 tackles, however his sack on Jake Delhomme with just over a minute left in the half was a momentum changer. On a 3rd and 8, Winfield came on the corner blitz untouched, blasting Delhomme and jarring the ball loose, leading to his 19 yard touchdown jaunt to tie the score.
The Vikings held Carolina to just 204 yards of total offense and 3/11 on 3rd down, earning their first victory of the season in a 20-10 win.
The fumble recovery for six wasn't his only impact on the day as Winfield helped hold Steve Smith to just four catches. Smiling the whole time, too.