We turn over the keys to the readers on Wednesday afternoons in a recurring feature we call The Soapbox. BrotherBuck is up this week with his look at the schedule.

If you have something you'd like published, simply email it to us (PDF, Word or text file) by 5PM ET on Tuesday to be eligible for that week. We'll take care of photos and links, but if you have something you want included, be sure to send that along.
Every year I take a look at the schedule for the Buckeyes' upcoming season and break it down into three categories; season enders, season breakers, and season makers.
Season enders are the games that I could not possibly fathom the Buckeyes losing. A loss against one of these team would be shattering and downright embarrassing for the team we expect the Buckeyes to be.
Season breakers are the games that Ohio State should win just by sheer talent. These are games in which we will be favored against very competitive teams. Losing one of these games would be stunning, but not the end of the world. Think Illinois last year.
Season makers are just that. Winning these games could make the season something very special. These games are against the best competition and will certainly be critical to Big Ten and national outcomes.
Season Enders
Youngstown State
If you think Appalachian State beating Michigan was a big upset this would cause Armageddon. I understand the series with YSU, but I do not like it. I would much rather see a stronger non-BCS school scheduled like BYU, TCU, or Central Florida.
Ohio University
I respect Frank Solich and the job he is doing in Athens, but this should not be close after the first quarter. We will not need a bomb late to Ken-yon Rambo this time around.
Minnesota
Keep an eye on these Gophers. As quirky as Tim Brewster is, I think he is going to make strides this year and take a huge step forward next year with a new stadium. Still, Goldy should have nothing for the Bucks in Columbus.
@ Northwestern
I am probably in the minority here, but I think Pat Fitzgerald is doing a remarkable job. He has kept the 'Cats at a respectable level following the Randy Walker tragedy. They could have folded their tents John L. Smith style after losing to Duke and being blasted in Columbus last year, but they fought hard and won some games down the stretch against more talented teams. I expect NU to take another step forward; however, one big step is not enough to compete with this Buckeye team. Plus, they have to play us after a bye week.
Season Breakers
Troy
Yes Troy! This is an amazingly huge trap game that could be reminiscent of the San Diego State game in 2003 (maybe the "worst" win in OSU history). Troy is very talented and after the long trip to the left coast to face Trojans Sr., we will have to turn around and keep focus on Trojans Jr. Troy plays with a very nasty attitude and they put a lot of speed on the field (they are, after all, a southern team). At least the same signs can be used from the week before with all of the derogatory Trojan references.
My personal opinion – This might be a great opportunity to get Terrelle Pryor more involved in the offense. This would provide additional focus by the team and help avoid the trap.
Purdue The Boilers avoid the list above mainly because of their position in the schedule. The week after playing Wisconsin (you will understand better when you read my Wisconsin take). Purdue had their best chance getting the Bucks at home last year and could not come close. They are taking a step back this year losing nearly all of their significant receivers and they have to come to Columbus. If the Bucks come out flat after the battle the week before there is a glimmer of hope for these Boilers.
@ Michigan State
Before it is all said and done there are going to be some classic battles with the Mark D'Antonio led Spartans. D'Antonio knows what it would mean to beat the Buckeyes and the boost it would give his up and coming program. After all, he was there in 1998.
Never underestimate the experienced quarterback. Sparty lost some key people to the NFL, but the cupboard is far from bare.
Penn State
There are a lot of people on Penn State's bandwagon this off-season, but I am not buying it. A new quarterback and the loss of their best defensive player will equate to issues. Not to mention Penn State just does not stroll into Columbus a put their best foot forward.
@ Illinois
Jim Tressel has never spoken publicly of revenge, but his history shows that justice is normally served (e.g. Iowa '05, Northwestern '05, and Texas '06).
Illinois always seems to be that team. You know, that team who should not even sniff your jock strap, but for whatever reason is just a thorn in the side. On the road and in November the Buckeyes will not speak of exacting a score with the Illini, but they will play with that very intention.
Season Makers
@ USC
The regular season game of the century ('05 Texas v. OSU) has a new challenger. This is the opportunity the Buckeyes need after their second consecutive National Championship loss. An opportunity that was void from the schedule in 2007. This game is the open door to validate the team and get the recent big game monkey off their collective back. USC has been incredible against tough out of conference opponents under Pete Carroll, but they have never faced a team that can match up with them man for man.
There is nothing more you could want in a sporting event. Fabulous talent, exceptional coaches, the two best bands, two tradition rich programs giving the nation a dose of what college football is meant to be. This truly defines the season maker label. It is early enough in the season that the loser can rebound and wind up at the top, but a win will provide an extra blast of wind in the sails for the victor to carry through the fall.
Every OSU game is a big game. The game on September 13 will be special.
@ Wisconsin
Wisconsin, thanks mainly to Barry Alvarez, is the new Nebraska. It is a collection of no-name athletes who suit it up and pound it at everyone they face as hard as they can. Not sure about that? Listen closely. Only two Big Ten teams won the week following the Wisconsin game. Penn State scraped by Indiana 36-31 and Indiana beat Ball State. Their other six Big Ten opponents lost the following week, including the Buckeyes. Why did Ohio State lose to Illinois? Partly because the week prior they played the most physically demanding game they played all year, Wisconsin.
It is Mr. Obvious trivia time. Who is the only Big Ten team that has a winning record against the Jim Tressel led Buckeyes? Bingo! Wisconsin is 3-2 against Ohio State since 2001.
The injuries sustained by the Badgers this past year have been staggering. Three starters alone went out with torn ACLs. Another is out with a broken leg. This is possibly consequence to their style of play. Reclaiming any of these players will be a major boost to a talented team. Answering their question at quarterback will be a key, but they are so reliant on the running game they can overachieve with a conservative caretaker under center.
Camp Randall will be rockin' again when the Buckeyes come to town. This is the most compelling game in the Big Ten this year and should decide its champion.
Michigan
Truly, I need not say any more,…..but I will. No matter who else is on the schedule this was, is, and always shall be THE GAME!
The last twenty meetings have produced an Ohio State win/loss/tie record of 8-11-1. It is funny when you look at it this way. This is just another example that statistics never truly tell the story. We all are aware of the dominance Jim Tressel has imposed over our foes up north with six wins in seven tries. This year brings a new dynamic, obviously, with a coaching change in Ann Arbor.
The Woody Hayes angel on my right shoulder tells me the Buckeyes will be locked and loaded for another dismantling of the evil maize and blue hoard. We will out-talent them, we will out play them, we will out hit them, we will have them at home, we have Beanie, we will be playing to get into a national championship game again, and Jim Tressel is our coach. Michigan is in recovery mode and will struggle with the implementation of a new offense and coaching staff. This should be a "Because we couldn't go for three," kind of game.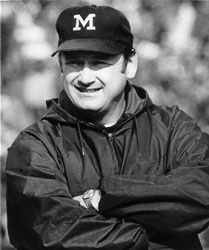 The Bo Schembechler devil on my left shoulder is singing a different tune. "Remember me?" he says.
Think 1969. That '69 OSU team may have been one of the greatest ever assembled. It was Woody's crowned jewel and it was going to repeat and make NCAA football history. Bo was new, and things were changing in Ann Arbor. They were good, but not great during the season, however, when it came time to strap it up against the unbeatable Buckeyes they performed a football miracle.
I was not born until 1971. However, every time I see the lowlights of that 1969 game my heart sinks and I burn with anger and embarrassment over that loss. I yell at the TV and lose my cool like it is happening all over again.
The Ohio State – Michigan game, as stated earlier, was, is, and always shall be THE GAME! Why? Because in any given game, 1969 could happen all over again. Call me an idiot if you want (I get that a lot), but I would not give up a single win against Michigan in exchange for one of the last two national championships. Not one!
I hope the Buckeyes welcome Coach Rodriguez to this rivalry by beating the crap out of them in Columbus. However, I am not going to simply dismiss them and chalk up a win because so many questions surround the Wolverines this year. Ignoring the history of this rivalry (insert John Cooper comment here) results in failure.
The season is upon us. Relax now because the hard work of being a full time, full fledged, in season football fan for THE Ohio State University is here. I told my wife the other day, "Football starts August 28. I'll miss you." It is truly a blessed time to be a Buckeye – savor it! And as always, Go Bucks!