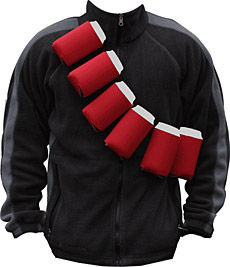 With kickoff weekend now under two weeks away, you're probably performing all necessary due diligence, such as inspecting the condition of your coolers and lawn chairs.
If you're as crafty as we like to imagine our readers are, you're probably also thinking of a way to show up in style and impress your friends and any nearby coeds.
While the Beerdolier may not exactly be the smartest thing to wear into the open on Lane Avenue, if you're tucked away in a shaded lot, we can't think of a better tailgating accessory.
72 ounces of liquid bliss, readily accessible should you find yourself unable to walk. Mix in a Booze Belt and you're an instant legend.
(Via Uncrate)