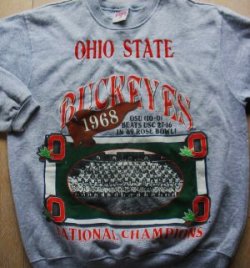 I know throwback jerseys are the preferred way for Buckeye fans to show love for legends of the past but feast your eyes on this baby.
You gotta admire a sweatshirt that maximizes every inch of frontal space with mad screen printing. A simple upper left chest emblem is for suckas.
Of course, to get the full effect, you better have a stout midsection to properly display the team picture and "National Champions" announcement along the bottom.
There's only one available. It's a Large, with a small stain ("half the size of a dime") and it's slightly used so expect it to fit like an Isotoner if you're over 170 lbs. Be the envy of your grandpa and snatch this puppy up before it's too late.