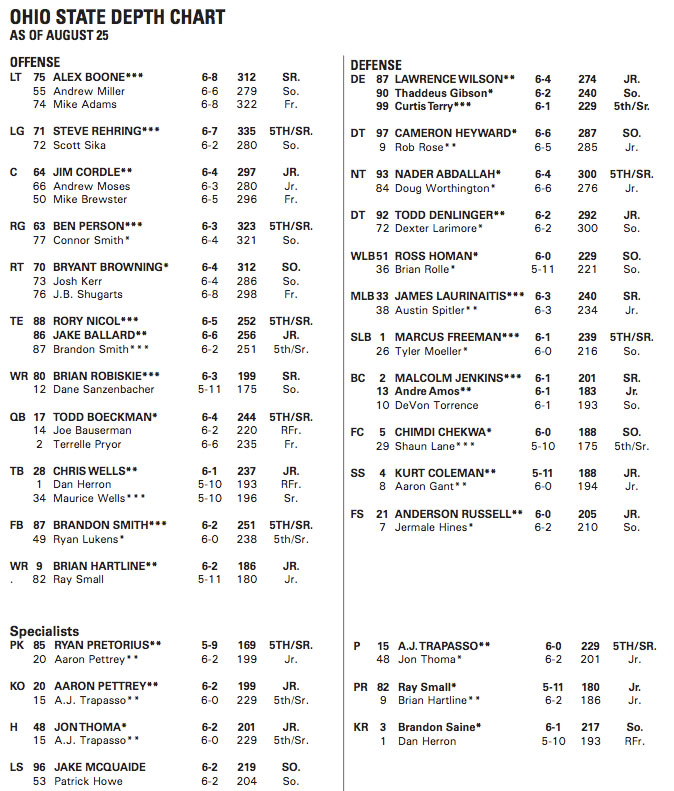 The depth chart is out for the YSU game and there's a bit of a surprise at the running back spot. Not only is banged-up Brandon Saine nowhere to be found, but Boom Herron appears to have jumped ahead of Maurice Wells for the 2nd running back spot. Who knew that with so many certainties heading into this season, there could still be a bit of intrigue?
Saine, who's been battling a hammy injury is still listed as one of the starting kick returners, so he's likely to play, but the staff obviously sees little need in using him any more than necessary against the Penguins. And why push a fast guy with a hamstring issue.
But the real story on the depth chart is the ascension of Boom Herron. Wells has been a dependable option and change of pace for Beanie and he really came on a little late last season. He's also a senior that's stuck around and said and done the right things after getting passed up by youngsters every year he's been on campus. You had to think Tressel would have showed some of that senior loyalty of his and put him in 2nd for the opener at least. Evidently not -- and I love Mo Wells, but I'm happy with the choice.
I've always thought his loyalty to seniors was at different times detrimental to the team's success. While in life, the right thing to do is to be fair and just to the guys that have stuck with you, when you earn a living based on how many wins you put up, sometimes you can't afford to make the sentimental picks.
Boom is going to get a golden opportunity to show what he can do and based on what has been coming out of camp, he's ready to seize it.
Other points of interest on the depth chart include:
Pryor is in the third slot at quarterback, while Dane Sanzenbacher and Ray Small are listed as the backups to the Brians. If we're still a year away from seeing the Taurian Washington show, you gotta like that depth.
The defensive line features three tackles and an end. It will be fun to watch this until Worthington returns.
Homan and Rolle are 1 and 2 at WLB. No real surprises here. Laurinaitis will be backed up by Spitler while Freeman is spelled by Moeller, who, of course, may see the field in nickel sets.
Andre Amos is listed as Jenkins' backup at the boundary corner spot, while Shaun Lane is listed as the backup to Chekwa at the other corner spot. If last season is any indicator (which it most likely isn't), the nickel was the non-boundary backup, which is slated to be filled by Shaun Lane (we still got your back, Famous).
Jake McQuaide has won the long-snapper job and with it the title of Buckeye starter you know least about.