On what should be one of the top few days of a guys life -- when he's signing a fat contract to play the game he loves, all anyone in Vernon Gholston's new home town wants to talk about is Brett Favre.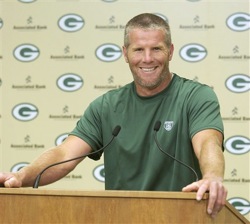 Gholston's contract, worth somewhere in the $30-$50m ballpark, with $21m guaranteed, was signed at 4:30AM and checks in at a whopping 250 pages. Big news for Gholston and the Jets, right?
Not quite.
After ESPN broke the news that the Jets had received permission to talk to Brett Favre, the press conference organized to discuss the contract signing turned into the Brett Favre show:
The Favre-related questions came at Mangini, one after another, and his facial expressions went from smiling to frowning. Finally, he pleaded for questions about Vernon Gholston, the Jets' first-round pick, who signed a contract Friday.
Welcome to the Big Apple, kid.
There's no truth yet as to whether the Jets decided to buck the trend against prohibiting athletes from doing things in fear of hurting themselves in favor of clauses prohibiting Gholston from hurting others. Like no inadvertent flexing lest he shatter every window within a five mile radius.
---
HERO. A Penn State student was arrested in their indoor facility wearing only a pair of jeans and a team helmet, clutching a replica of the 2007 Alamo Bowl trophy.