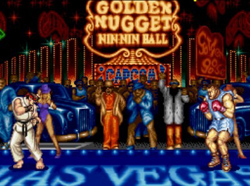 The venerable Golden Nugget is the first major sports book to release odds on the USC game and they opened with the Buckeyes as 3.5 point dogs before moving to 4.5 points.
Golden Nugget sports book director Tony Miller thinks the line could get up to seven and personally, I love it. The line is already enticing at four and a half, at seven, it's easy money for those that like to bet with their hearts (always a great idea).
Has a team fresh off a national championship appearance with 18 returning starters ever been seven point underdogs before? Doubtful, and there's good reason for that -- as a commenter in the linked-to post above pointed out, there's a lot of LA money in Vegas. Even more so with travel costs limiting wagers from other regions of the country.
I'm not guaranteeing a victory (yet), but I'm having a hard time seeing USC winning by much more than a field goal if they do pull it off. (I keep thinking Texas 2005-like 25-22 with the winner unknown until the very end.)
---
This was pointed out in the comments, but it's worth bringing up again: did Barrett Sallee, esteemed Southern wordsmith, farm his most recent piece out to an army of YouTube commenters? He starts things off with a bang:
In 2006, they lost 41-14. In 2007, they lost 38-24. Neither was as close as the score indicated.
I don't know about you, but it's hard to reflect ass-kickery more than 41-14. Later on, he reveals the source of his bias with the customary Woo-Shoutout-to-My-School nod:
After getting spanked by a one-loss Florida team in 2006 (War Eagle!), and then getting run out of the building for three quarters, after LSU sleep-walked through the first quarter in 2007, Ohio State, and the Big 10+1 as a whole, has proven that they barely deserve an automatic bid in the Bureaucratic Crap System (BCS), much less a cruise card to the Championship Game.
The MSM can rip on blogs all day long, but as long as guys like Sallee are flirting with Pulitzers, I'm not sweating it.
---
Black Shoe Diaries continues their wishful-thinking series of looking at exit plans of notable coaches by examining the departure of JHC.
Though we respectfully disagree with their assessment of not being able to remember the last time a Buckeye fan said something nice about Coop -- if anything, Tressel's success has helped his legacy by taking away some of the sting of that decade, it's a good read if you're into reliving swift kicks to the nuts.