When the Buckeyes and Trojans finally do tangle -- and judging by recent activity, it can't get here fast enough for fans of every stripe -- Pete Carroll will be taking the field against a school he formerly coached at for the first time in his career.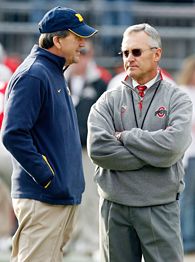 Carroll arrived in Columbus for the 1979 season attached to new head coach Earl Bruce. He had spent the previous season as Bruce's secondary coach at Iowa State and would be assuming the same duties for the Buckeyes.
Bruce's first team featured 11 returning starters including sophomore quarterback Art Schlichter, who had started all 12 games a freshman in Woody's final season. Still, the loss of an icon had tempered expectations heading into the season and the defense was still smarting from giving up the most points per game in nearly 40 years.
The Buckeyes opened the season by throttling Syracuse 31-8. Carroll's touch was evident right away as cornerback Mike Guess was named conference defensive player of the week after posting 11 tackles and a fumble recovery. OSU won their next two games before defeating UCLA 17-13 in the Coliseum and then reeled off six consecutive victories including a five-interception performance against Iowa.
By the time the Michigan game had come, the Buckeyes had moved up to #2 in the AP poll and the team had national championship aspirations. The Wolverines lead 7-6 at the half in front of a then-record regular season crowd at the Big House. A Schlichter touchdown pass put the Buckeyes ahead 12-7 in the third before Michigan rallied with a score and two-point conversion to take a 15-12 lead into the fourth quarter. With time winding down in the final stanza, OSU got the play they needed when safety Todd Bell scooped up a blocked punt and raced 18 yards into the end zone for the winning margin.
Albeit a special teams play, it was one of Carroll's guys that snapped the Wolverine's three-game winning-streak over the Buckeyes and put them in the Rose Bowl where they'd face #3 USC. The Trojans entered the game 10-0-1 and were lead by Heisman Trophy winner Charles White and one of the best offensive linemen in college (or pro) football history, Anthony Munoz. Awesome hair alert in 3.. 2.. 1..
In a battle of unbeatens, the Trojans raced out to a 10-0 lead before the Buckeyes scored 16 straight to take a six point lead into the fourth quarter. Then the Charles White show began and the Buckeyes would finish one point short of a potential national championship. It would have been a split-title if they had won, because Bama was pretty dominant that year at 12-0, but a lost title, nonetheless.
The game was Pete's first Rose Bowl appearance and as a native Californian, an early highlight of his career. But 1979 would turn out to be Carroll's only season in Columbus (insert Ohio is boring joke here) as he followed Monte Kiffin to NC State in 1980 -- a favor he would later return by moving Kiffin's son Lane through Trojan organization.
On September 13th, Carroll will be a part of his second OSU/USC game, but from an entirely different vantage point as he squares off against a guy that similarly elevated a CFB blue-blood back to glory after taking over in 2001. Surely this hits different guys in different ways, but if Lou Holtz and his Buckeye... ahem... enthusiasm is any indication, the memories you experience while working at a school are enough to carry over into a casual rooting interest at other stages of a coach's career. Maybe not for this particular game, but it's safe to say that Carroll probably pulls for the Buckeyes, Wolfpack, Cyclones and every other school he's coached at -- all bets are off for the Jets and Pats, though.